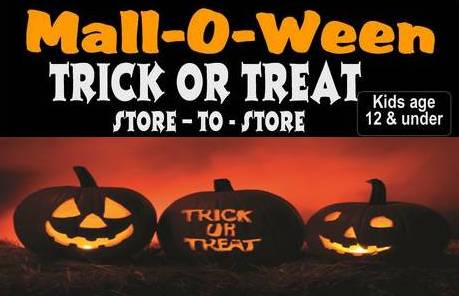 Ocala, Florida — On Friday, October 31, 2014, the Paddock Mall is hosting Mall-O-Ween and mall-wide Trick-or-Treating for Halloween.
Paddock Mall is inviting all little ghouls, goblins, and boo'tiful princesses to come have a spooktacular' time at the Kidgits Halloween event.
Starting at 5:00 Kidgit members* (and those wanting to become a Kidgit member) will enjoy free face-painting, crafts, and treats.
All children 12 years old and younger are invited to join in the mall-wide Trick-or-Treating from 5:00-7:00 p.m.
Visit participating stores and community businesses for yummy treats! Mall-wide Trick-or-Treating is free to all children 12 and under dressed in costume. No toy weapons. No masks fully covering your face.
*"Kidgits" is our children's club geared toward ages 3-8. To become a Kidgit member, please stop by the Guest Services Booth in center court ($5 annual membership fee).
This event will provide a fun and safe enviroment for kids to enjoy Halloween.
It's sure to be a howlin' good time!