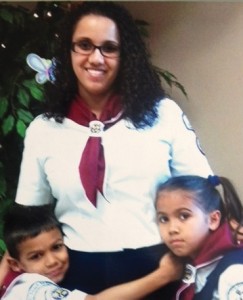 Daytona Beach, Florida — Luis Toledo was at the Volusia County Sheriff's Office's Operations Center talking with investigators Saturday morning. Toledo is the person of interest in the disappearance of Yessenia Suarez and her two children, 8-year-old Michael Otto and 9-year-old Thalia Otto.
The mother and her two children are suspected to be deceased, although their bodies have not been located.
At one point during the interview Toledo was permitted to use the bathroom with a deputy guarding him. Toledo forced the doorway shut, smashed the mirror and used the mirror shards to attempt suicide by cutting himself. Deputies were able to quickly access the room and secure Toledo. His injuries were determined to be non life-threatening and he was transported by EVAC ambulance to Halifax Health Medical Center in Daytona Beach for treatment for his cuts at about 11:30 a.m.
Additionally, investigative teams, with the assistance of a Sheriff's Office helicopter, have been searching several locations dictated by information developed in the investigation. Meanwhile, the Sheriff's Office has been re-tracing all of its investigative steps to try to develop additional information that hopefully will lead to the recovery of the bodies. No charges have been filed in the case.
As residents in the Volusia and Seminole County areas go about their business this weekend, the Sheriff's Office urges them to be observant and immediately contact law enforcement if they see anything that appears suspicious.
FDLE has also joined the search for the missing mom and her two children.