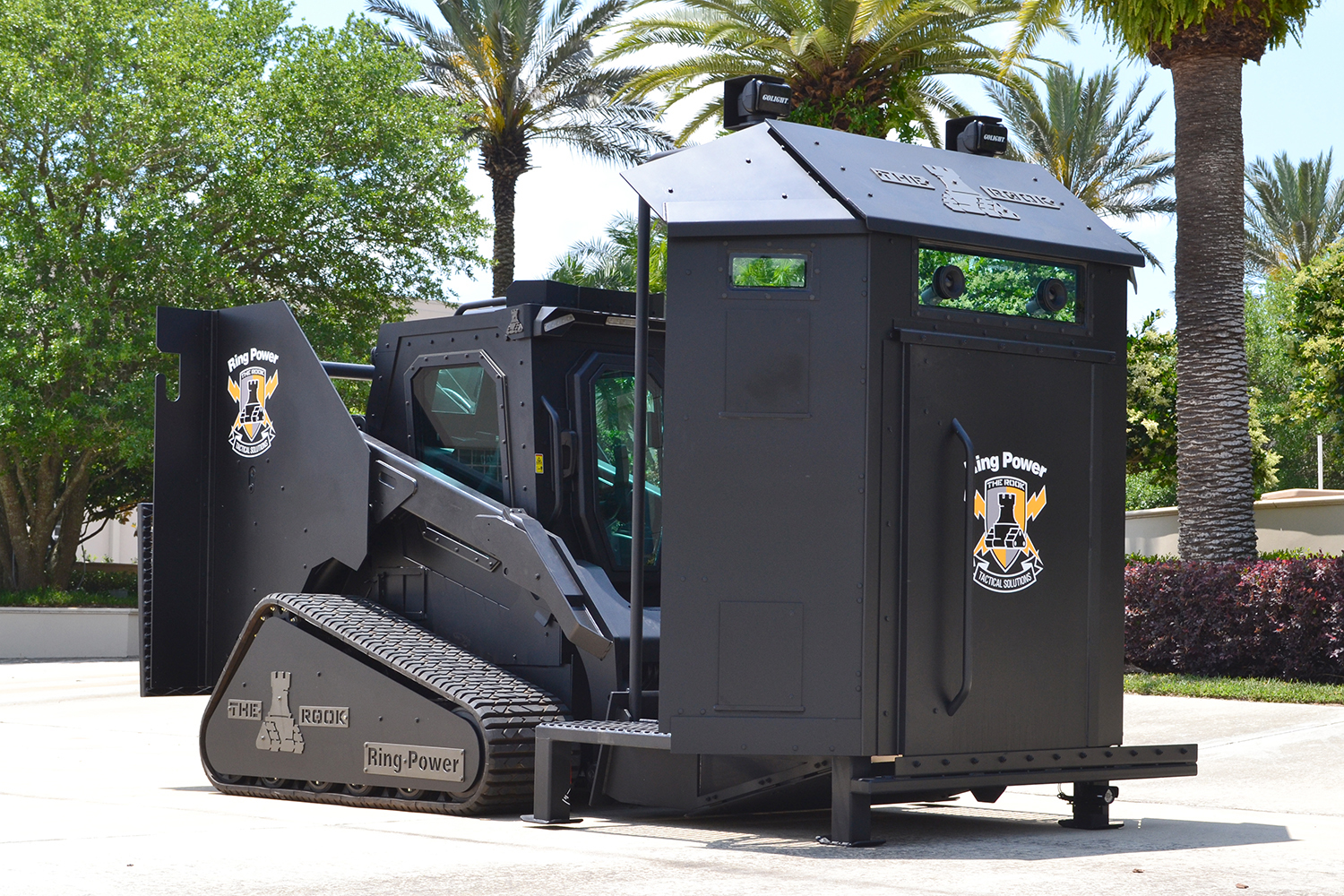 Ocala, Florida — It's called The Rook, a unique machine used to protect law enforcement officers, while they protect you.
Marion County Sheriff Chris Blair, asked Marion County Commissioners for approval to buy the $255,000, 13,000 lb. beast and, with little resistance, Marion County Commissioners agreed.
The decision comes following recent – but separate – incidents in which criminals barricaded themselves inside homes, prompting a response from the Marion County Sheriff's Office SWAT Team.
In a June 1, 2014 incident, Dustin Heathman, 35, opened fire with an AK-47. Bullets whizzed by SWAT members, some just missing SWAT members by less than two feet; many bullets struck and damaged the Department's BearCat.
Sheriff Blair said, "We were blessed that day… that all of them returned home to their families."
Bullets from the AK-47 struck the bullet-proof windshield of the BearCat, therefore weakening the strength of the windshield and rendering the armored vehicle useless until repairs are finished.
Heathman stated that he wanted to kill as many law enforcement officers as possible. Once arrested, it was learned that he was in possession of a small arsenal which included 4,000 rounds of ammunition.
Many citizens have expressed mixed feelings about the purchase of a $255,000 "military type" vehicle, while others, like David Snyder of Ocala, say you cannot put a price on officer safety.
Much of the controversy over the purchase of The Rook is due to misinformation or the lack of.
Citizens initially believed their taxes would be raised in order cover the purchase, however, the facts seem to be more appealing to residents.
The Rook is actually being funded by drug dealers so-to-speak. A statute that allows drug money to be seized is being utilized, therefore allowing the use of drug monies to purchase The Rook. And the cost is actually being split between the Ocala Police Department and the Marion County Sheriff's Office. The two agencies, together, will purchase one Rook and share it. Chief Graham of the Ocala Police Department, is in full support of purchasing The Rook.
"As I informed the Commission, I am charged each day with my officers going home after their shift. Chief Graham and I have a great working relationship and I was glad that he agreed to support and share in the cost as he is aware of its importance," said Sheriff Blair. "Police Officer deaths are up 38 percent the first six months of this year, with 63 dying since June of 2013. This does not count the Officers that are seriously injured each year, thus ruining their careers and changing their lives forever."
The Department Of Justice conducted a massive survey among convicted felons, asking them what deterred them more; armed victims or the police? The results were stunning. More than 57 percent of felons polled that criminals are more worried about confronting an armed victim than they are about the police. In the poll, criminals openly admitted to not having any respect for the life of a law enforcement officer. And according to recent findings by the Department Of Justice, law enforcement officers – in today's society – are often outgunned by suspects they come into contact with.
Many have asked why the seized drug monies cannot be applied toward officer salaries. According to the Attorney General's guidelines on seized and forfeited property, it would be in direct violation of the statute for the sheriff's office to do so, and the agency could suffer serious repercussions if they did.
Statute 118.740 VII.D. states that seized funds may not be used for salaries, overtime, benefits, meals or expenses in connection to the seizure; just to name a few limitations. Moreover, the decision to use the funds must be approved and signed off by multiple individuals outside of the sheriff's office. A checks and balances system of sorts.
"The Rook will provide responders with the ability to safely approach a barricaded residence, poke holes into a structure for the entry of cameras or a remote phone, move vehicles safely that may be blocking an entrance, assist in removing items that could provide the suspect with hiding places, present a platform to elevate troops onto high locations and provide armor-plated barricades for SWAT strategic operations," Blair wrote in a recent letter to the Marion County Commission.
The Rook
The Rook Vehicle is custom designed and fabricated for law enforcement by Ring Power Corporation, the North and Central Florida Caterpillar® dealer. Utilizing the powerful Cat® 287C Multi-Terrain Loader with 84 gross HP engine, 13,000 lbs. operating weight, rugged wide rubber tracks, dual joystick controls, and enclosed cab with air conditioning/heat and operator comfort seat, custom installed bullet-proof glass, and NIJ Level IV armor cab reinforcement fabrication. And make no mistake about it, this machine is no Bobcat said developers.
When law enforcement officers are called to any emergency situation – they are prepared for the worst case scenario. Whether dealing with a hostage rescue, barricaded suspects, riot scene, or natural disaster; having the right defensive equipment is critical said Ring Power developers. The Rook is custom designed with mission specific attachments that increase job safety, while also improving the ease and speed of changing attachments.
The Armored Deployment Platform (ADP) allows officers to approach a structure without covering open exposed ground on foot. Officers can easily gain entry to the second story of a house or building without a ladder, allowing them to search the house from the top down without using stairways to work their way up. The ADP is also used to deploy snipers to a rooftop according to its designers.
The Rook's integrated video system also gives visibility into areas that small robotic video cameras cannot access.
The sheriff's office says they cannot continually rely on borrowing a Rook from a neighboring sheriff's office as they have done in most recent incidents. They said while they are extremely grateful, they simply cannot wait an hour during a situation like the Heathman incident. Every second that goes by in a standoff situation puts citizens and deputies at risk said Blair.
Following the most recent standoff at the Dove Hill Subdivision Blair said, "I cannot remember this ever happening in my 37-years of law enforcement experience." He said it's becoming more commonplace.
The Dove Hill standoff marks the third SWAT related standoff to happen within a month's time.
"We have dedicated Men and Women at the Sheriff's Office and the Ocala Police Department that risk their lives every day. At the Sheriff's Office, we have an additional risk due to the number and type of calls my Deputies handle as well as the shortage of manpower for backing up deputies on those serious related calls," said Blair. "I will continue to fight for their safety and the safety of our Citizens as I have been charged with as the Sheriff of Marion County. I am very passionate on this issue as we have lost too many Officers across this Country who have made the ultimate sacrifice for the people and the Communities they once served."
While the Rook may not be a piece of equipment that will be utilized on a daily basis; deputies say just one life saved in a single use makes The Rook worth every penny.
Law enforcement officials contend that The Rook is not for the use of intimidation against law abiding citizens, but rather to protect county residents and officers alike, from dangerous hardened criminals.