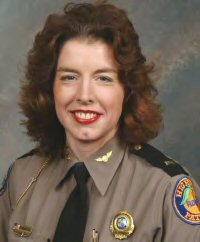 Lake City, Florida — The Florida Highway Patrol is proud to announce the appointment of Major Eileen Powell to the position of Troop Commander.
Her promotion became effective June 16, 2014, according to a FHP press release.
Major Powell is the first woman to hold this esteemed position in North Florida and will oversee approximately 101 State Troopers and 10 non-sworn employees. Troop B consists of nine counties including: Alachua, Columbia, Dixie, Gilchrist, Hamilton, Lafayette, Levy, Marion and Suwannee.
Major Powell received her Bachelor's Degree in Criminology from the University of South Florida in 1995 and her MBA from St. Leo University in 2007. She has served with the Florida Highway Patrol for 27 years.