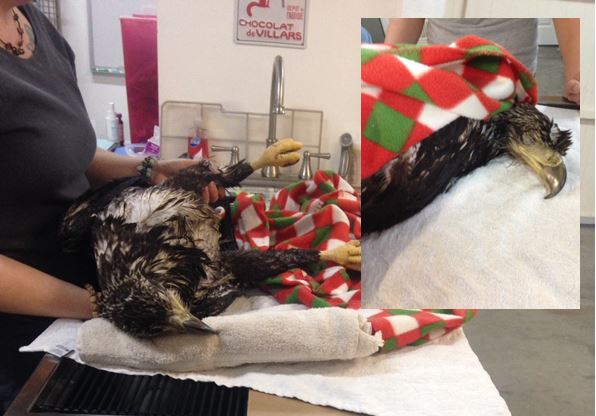 [Last updated on February 19, 2015, at 9:32 p.m.]
Correction: A previous version of this article stated "the animal shelter euthanizes anything under three pounds," when it is actually two pounds. Also, the word "allegedly" was added before the word "poisoned." Statements from Marion County Public Information Manager, Barbra Hernández, APR have also been included.
Ocala, Florida — It has been 14 days since two eagles were allegedly poisoned at the Marion County Baseline Landfill, leaving one dead. After being rehabilitated, the surviving eagle was released back into the wild.
In regards to landfill regulations, the Florida Department of Environmental Protection (DEP) released the following statement:
"Department personnel conducted an inspection of the above-referenced facility on February 10, 2015. Based on the information provided during and following the inspection, the facility was determined to be in compliance with the Department's rules and regulations."
The inspection was performed eight days after the two eagles were found at the landfill.
Concerning animal disposal, the Florida Department of Environmental Protection released the following statement:
"A review of the facility's procedures for the disposal of animal waste was conducted during the inspection. The process was described by Keith Butler and Larry Starkey (two landfill employees)."
The statement suggests the procedure was merely described by employees, but not actually witnessed by inspectors.
Ocala Post reached out to the DEP for clarification. DEP Public Information Officer Mara Burger confirmed that the procedure by which the facility disposes of animal waste was a review, but the actual act of disposal was not witnessed in person.
Simply put, the inspectors relied on the word of landfill employees.
The inspection also did not include water tests.
The fact remains that — for the second time — two more eagles were allegedly poisoned by ingesting phenobarbital from an animal that had been discarded, by the Marion County Animal Shelter, at the landfill. Pentobarbital is a barbiturate, which slows the activity of the brain and nervous system and is commonly used to euthanize animals.
While the county admits they dump euthanized animals at the landfill, county officials say it is within state guidelines.
Ashley Smith, who shadowed at the Marion County Animal Shelter, said what she saw at the animal shelter was heart-wrenching. She said the shelter needlessly euthanizes animals.
"The animal shelter euthanizes anything under two pounds, nursing, pregnant, too old, pit bulls, and anything with even a simple cold, or a small lesion," Smith said. "To see a three-week-old kitten — eyes just opening — full of wonder and curiosity blooming and not knowing what is about to happen is the saddest part of all I believe."
Marion County Public Information Manager, Barbra Hernández, APR wrote. "Marion County Animal Services euthanizes animals that are unweaned who staff cannot find a foster family to raise until they are two pounds, not three. However, nearly all MCAS employees participate in the foster program to save as many as possible, and so do a great group of citizens who tirelessly raise kittens and puppies, and care for sick animals and return them so MCAS can spay or neuter them and place them up for adoption. The Animal Center does not euthanize an animal because it is pregnant. Staff usually can find a foster, and sometimes is able to let them have their litter at the shelter (and then seek a foster) if there is room. Senior animals are frequently put up for adoption. There is no age maximum, provided they are reasonably healthy. As far as pit bulls, the center's online kennel display will show pitbull, mixes and any breed of animal that is able to go up for adoption. Generally, most of the shelter's adoptable dogs are pitbulls, especially those that take very long to adopt. Regarding small lesions, the shelter's staff veterinarian goes so far as to amputate legs if medically needed. The shelter is not required to do those types of surgeries, but does it anyway when possible to save a life of a friendly and otherwise healthy animal. As a further example, just last week the shelter adopted out nearly 50 animals at outreach adoption events and from the shelter, including pit bulls and senior dogs. Since the beginning of February, MCAS has adopted out over 139 animals, including 8 animals over eight years of age and 24 pitbulls/pitbull mixes."
"Many animals do not go as quickly as one would prefer, and their final moments are definitely not quick nor painless," Smith said.
Hernández wrote, "It is extremely uncommon for a recommended euthanasia dosage to be insufficient. All procedures are completed by caring, well-trained and ethical staff who subscribes to strict regulations."
Smith went on to say, "After these animals are injected and just barely pronounced dead, they are tossed onto the bed of a truck out in the open, sometimes not even bagged. There they will sit until all of the euthanasia has been performed that day. It becomes a mountain of open eyes filled with fear, pain, and ultimate loss."
Additionally, said Smith, "As an animal professional I recognize that some euthanasia are necessary, but not like this. This outdated method of disposing of pets is putting local wildlife in jeopardy."
Multiple individuals claiming to be former employees of the Marion County Animal Shelter have described similar circumstances to Ocala Post in various e-mails.
Rehabilitators have described the inspection as "laughable."
The Animis Foundation said, "Eagles are not hanging around the landfill to eat trash. They are there because there is a plentiful supply of meat."
"In fiscal year 2013-14, Marion County Animal Services represented only about 27% of the total deceased animals delivered to the landfill. Marion County Solid Waste accepts deceased animals at the landfill from any individual or animal-related agency, regardless of the type of animal or cause of death (whether natural or by euthanasia). Due to special disposal requirements, Solid Waste requires residents and agencies to notify if the waste they are disposing includes deceased animals, hazardous materials, chemicals, sludge or other, in accordance with the rules or statutory requirements or permit conditions. Deceased animals brought to the landfill must be reported to staff for proper burial. However, staff has no way of telling if someone or a business deposited deceased animals at the landfill without properly reporting it. For all reported and spotted deceased animals, staff follows the strict regulations in place," Hernández wrote.
The foundation said as long as poisoned animals are being dumped like trash, local wildlife will continue to die. They said the standards set by the state are clearly not working.
The U.S. Fish and Wildlife Service (FWS) is still investigating.
The contents of the eagles's stomach is also being tested.