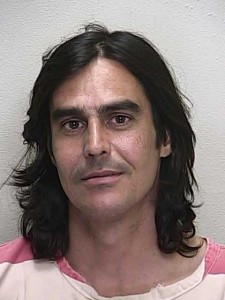 Ocala, Florida — The Ocala police Department was dispatched to the area of the 700 block of NE 28th Street in Ocala, on November 3, 2013, after an anonymous caller dialed 911 reporting that a man was chasing a child and attempting to grab him. After the anonymous caller hung up, 911 received a second call by someone reporting that a man was chasing and attempting to grab a child in the same area.
According to reports, Ocala Police Officer Mark W. Crandall responded to the area where the incident was taking place. Upon Officer Crandall's arrival he was advised that the man was leaving and he [Officer Crandall] had just passed him.
As Officer Crandall passed a man riding a bicycle, dispatch informed the officer that the man on the bicycle was in fact the suspect, later identified as 39-year-old Julio Alvarez.
According to reports, when Alvarez rode his bicycle passed the police officers patrol car, Alvarez said, "I love you" and blew a kiss at Officer Crandall. Officer Crandall then turned his car around and made contact with Alvarez on NE 8th Avenue.
Upon making contact with Alvarez, the officer noticed that Alvarez was in possession of an open container of alcohol and had blood on his shirt. The officer also reported that Alvarez was acting out of the ordinary with his movements and was speaking Spanish and English very rapidly, according to police.
Based on the nature of the call and the appearance of blood on Alvarez's shirt, the officer immediately attempted to place Alvarez in handcuffs.
According to reports, Officer Crandall placed one cuff on Alvarez's left wrist at which time Alvarez spun around violently in what police say they believed to be an attempt to get away from the officer. Officer Crandall then forced Alvarez to the ground, putting him in a felony handcuffing position, said police.
Once on the ground the officer was able to place Alvarez's right hand behind his back and secure him with handcuffs. Alvarez then began telling Officer Crandall that he loved him and that he did nothing wrong, according to reports.
When Officer Crandall attempted to place Alvarez in the back of his patrol car, Alvarez mumbled something and began resisting and violently kicking his legs at the officer, sticking Officer Crandall in the thigh, according to reports. Back up units arrived to assist Officer Crandall, at which time Alvarez was secured with leg shackles and successfully placed in the back of a patrol car, said police.
Assisting officers stayed with Alvarez while Officer Crandall located the child who was involved in the original incident. The 8-year-old boy told Officer Crandall that Alvarez is in the neighborhood a lot but was not exactly sure where he lives, according to reports.
The boy said that Alvarez was trying to get him [the boy] to take some potato chips from Alvarez and when the boy would not take them, Alvarez became very aggressive and went towards the boy backing the boy up towards the front door of his [the boy] house, according to reports.
Officer Crandall asked the boy if he was able to get away from Alvarez at which time the boy said that he could not because Alvarez had him cornered. The boy stated that Alvarez grabbed him so hard that he became too scared to even scream for help. The boy added that Alvarez continued trying to pull the boy away from his home and the boy was finally able to break free from Alvarez's grip and run for help, according to reports.
Officer Crandall reported that the boy began to tear up while talking about the incident and was clearly terrorized and traumatized by what had happened.
Fire rescue responded to the scene to investigate the blood that was on the shirt of Alvarez, which was determined to have come from a puncture wound of an unknown nature. Alvarez was taken to the hospital for treatment before being taken to jail.
Alvarez was charged with one count of Kidnapping, one count of Battery on a Police Officer, one count of Resisting Arrest with Violence, and one count of Possession of an Open Container.
He is being held in the Marion County Jail on a $40,150 bond.