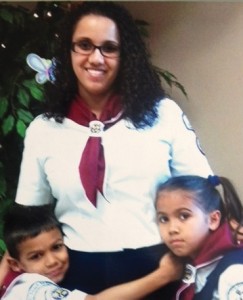 Daytona Beach, Florida — Sheriff Ben Johnson and the commanders of both the investigative and search components of Yessenia Suarez case met Monday afternoon with the family of Yessenia Suarez and her children, Michael and Thalia Otto. At the meeting, the group reviewed the progress of the ongoing search efforts that have been undertaken to locate the victims. During the meeting, the family presented information regarding additional locations that the Sheriff's Office is evaluating for future ground searches.
At this time, the command post will remain in place as a central point of operations to coordinate further search efforts. While searches are continuing today and beyond, they are no longer being pre-staged at the command post because the personnel needs have diminished as most of the initial search objectives have been completed. Accordingly, outside resources are not being brought in at this time and all additional searches are being conducted by Volusia County Sheriff's Office personnel. Additional outside resources will be brought in again if the need arises.
The information provided by the family at Monday's meeting is currently being evaluated and other searches will be conducted as dictated by investigative leads developed in the case. In addition, patrol deputies will be directed to remain vigilant and continue to look for the victims in their assigned patrol zones.
In order to further the investigation, the Sheriff's Office is requesting the assistance of residents who either live or were traveling in the vicinity of either the victims' residence on Covent Gardens Place in Deltona, the Publix in Lake Mary where Suarez' vehicle was recovered, or points in between. Investigators request that anyone living in the affected areas or who was traveling through them either on the evening of Tuesday, October 22, 2013 or the morning of Wednesday, October 23, 2013 check to see if they captured any photos or surveillance video through their residential or business surveillance systems that might be connected to this case.
The vehicles in question are a 4-door, 2004 silver Saturn Ion (Florida tag, 594XME) and a 4-door, 2013 black Honda Accord (Florida tag, AKMM97). Anyone with information is asked to contact the Sheriff's Office at (386) 254-1537. Anyone who has information, but prefers to remain anonymous, can call Crime Stoppers of Northeast Florida, toll-free, at (888) 277-TIPS. You can also text a tip to Crime Stoppers by texting "TIP231 plus your message" to CRIMES. Individuals who provide information to Crime Stoppers can qualify for a reward of up to $1,000.