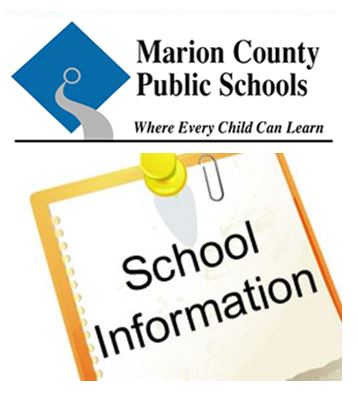 The following are Marion County school district updates and actions taken due to COVID-19. These updates were issued on Monday, May 4, 2020.
· Summer school for elementary students runs Monday – Thursday, June 15 – July 9, and June 15 – July 23 for secondary students. Students typically attend by invitation only based on academic progress. Extended School Year (ESY) will also be offered on a virtual basis to students with exceptional needs. Summertime driver's education classes have been canceled because safe social distancing is not possible. More details on summer school programs will be announced in the coming weeks.
· Class of 2020 cap and gown deliveries started Monday with Belleview High and continue through May 15 at other schools. A "drive-thru" format maintains safe social distancing and offers seniors the opportunity to make memorable moments with school leaders. Visit each school's home page via www.marionschools.net for specific pick-up timeframes based on this schedule and senior's last name initial:
Vanguard High – Thursday, May 7, 9 A.M-11:30 A.M
Dunnellon High – Tuesday, May 12, 12 P.M-2 P.M
Lake Weir High – Tuesday, May 12, 5 P.M-7 P.M
North Marion High – Thursday, May 14, 9 A.M-11:30 A.M
Forest High – Friday, May 15, 9 A.M-12 P.M
West Port High – Students will receive their caps and gowns through the mail. This school will hold its drive-thru event for senior signs and yearbooks in the near future.
· High school graduation ceremonies should be finalized Thursday. School board members and district leaders are committed to honoring the Class of 2020 with in-person recognition built around safe social distancing. Specific details, including dates and times, are forthcoming.
· Marion Afterschool Programs (MAP) pre-registration for the next school year continues its design phase. This program offers before- and after-school student supervision. To ensure safe and equitable opportunities to register, stay tuned for more details.
· MCPS employees returned to the hybrid work model today, meaning some reported for duty at their regular work location while others continued working from home. Employees unable to work for personal reasons are utilizing FMLA (Family Medical Leave Act), personal, and sick time.
Important upcoming calendar dates:
May 18 – student enrollment for the next school year begins by appointment only. Students can also start retrieving items from their classrooms by appointment only.
May 26 – last day for seniors
June 1 – last day for students. The school year was extended to make up days missed due to COVID-19. This extension meets state requirements for 900 hours of instruction annually.
June 3 – Chromebook and textbook returns begin. More details on these plans are forthcoming.
June 8 – last day for teachers
· "Parking Lot Wi-Fi" continues free of charge, Monday-Friday, 9 A.M-7 P.M, at these schools: Belleview Middle, Dunnellon High, Forest High, Fort McCoy School, Horizon Academy at Marion Oaks, Lake Weir Middle, North Marion High, North Marion Middle, Vanguard High, and West Port High. Users simply drive into the parking lot, log in, and access learning materials online. This service is provided through a partnership with the City of Ocala and its fiber network operation.