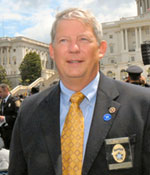 Morale is at an all-time low for the men and women of the Marion County Sheriff's Office.
A not so great leader once remarked that "I don't care about their morale as long as they do their job."
The current situation of rancor and animosity between the Marion County Commissioners and Marion County Sheriff Chris Blair over the operating budget, deplorable condition of the vehicle fleet deputies are driving, low pay and the total breakdown of communication with the rank and file is rapidly reaching a boiling point. The men and women working daily on the front lines, protecting the citizens of Marion County deserve better than to be used as pawns in a testosterone battle.
It is any wonder confidence in government no longer exists when elected officials are more concerned about petty differences than in finding a reasonable solution.
The Sheriff and the deputies will likely reach an impasse in negotiations if the Sheriff's negotiation team continues with delaying tactics, which will cause the County Commission to resolve disputed issues in the collective bargaining agreement between the Sheriff and the Fraternal Order of Police.
The Fraternal Order of Police has tried to reach agreement on many contract articles, yet the Sheriff's negotiation team rebuffs any agreements. Fleet managers across the nation dealing with law enforcement vehicles have policies in place to address the replacement of fleet vehicles. Once the cost of repair exceeds the value of the vehicle, once the age and condition of the vehicle exceeds the useful life of the vehicle it is time to replace. One third of the fleet should be cycled out and replaced every year. It is irresponsible leadership when 70% of the Marion County Sheriff's vehicles have logged over 100,000 miles and continually breakdown. It is also ludicrous to suggest the deputies stop in the middle of an emergency call or a pursuit to "change cars at the local Jiffy store." If they were responding to your life threatening situation, minutes count. You want them to arrive within a minimum response time to protect your family or save a child's life.
We ask Sheriff Blair to sit down and negotiate in good faith with the F.O.P. on contract issues for the men and women of the Marion County Sheriff's Office. We ask the Marion County Commissioners to educate themselves on public safety best practices for the citizens they represent and work together with the men and women who deliver public safety to the citizens they represent.
The community deserves better.
James W. Preston
President
Florida State Lodge Fraternal Order of Police