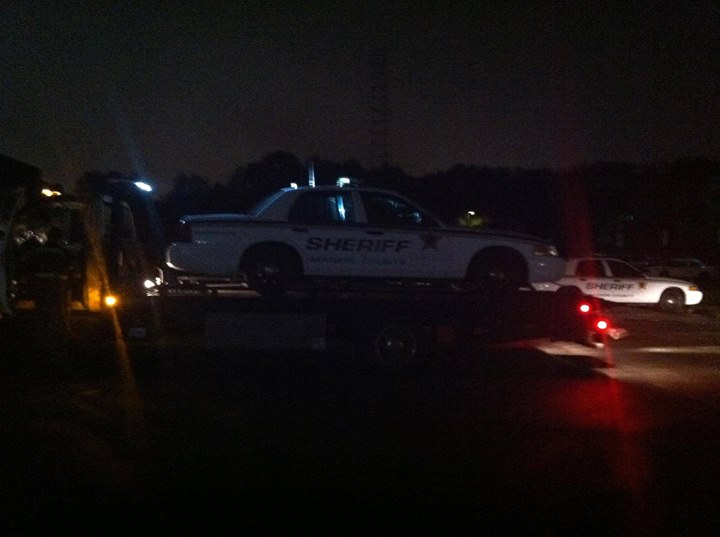 Ocala, Florida — Oblivious, outrageous, insane, out of their minds– Just a few words that were recently used to describe Marion County, Florida, Board Of County Commissioners (BCC) after public safety was portrayed as a joke by the BCC.
After being denied a budget increase for new patrol vehicles by the BCC, the Marion County Sheriff's office turned to Facebook, posting pictures of their worn driving range, worn vehicles, and vehicles that have broken down during calls for service. According to the Sheriff's Office, in the past six months, 57 vehicles have been towed back to the Sheriff's Office. In one instance a deputy was stranded and out of service for more than an hour, therefore increasing response time.
Many of the departments patrol vehicles have close to 200k miles of actual drive time on them, the mileage does not account for idle time. According to Ford Motor Company, and the EPA, 10 minutes of idle time is equivalent to five miles.
Terrain also has to be taken into consideration. Many of the rural areas in Marion County contain lime rock and dirt roads, all of which play a part in wearing down a vehicles suspension as well as the engine.
Ocala Post spoke with several independent mechanics of whom all agreed that when a vehicle spends more time in the repair shop, racking up parts bills and man hours, it becomes more cost effective to replace that car. Two of the mechanics, who wish to remain undisclosed, told Ocala Post that the average car is not driven nearly as hard as a patrol vehicle, therefore 200k miles on a vehicle driven with the intensity of a patrol car could easily meet the equivalent of 300k-400k miles, including idle time. Adding, patrol cars are not driven like grandma would drive the family sedan.
The Marion County Sheriff's Office maintains that by continuing to force deputies to drive unsafe vehicles, it is a tragedy waiting to happen. Citing, vehicles cannot remain in the shop on a daily basis, patrol vehicles must remain on the roads.
Marion County Commissioner, Earl Arnett, said if the Sheriff's Department wants more money for vehicles they should shut down the jail and turn it over to a privatized company. Corrections Corporation of America is who Arnette is referring too.
Corrections Corporation of America is a company that preys on county jails and prisons when budget issues become a concern. CCA has been accused of mistreating inmates, mistreating employees, falsifying internal investigations, violating civil rights, falsifying hours that are reported to the state in which they are running a prison or jail, and have been the center of a major FBI investigation. Many of the allegations against CCA have proven to be true, yet the company remains in business. Corrections Corporation of America has been referred to many times as, "The New World Order."
The Marion County Jail just scored 100 percent on a recent inspection and is rated as having one of the lowest food costs of any jail due to the operation of the inmate work farm; something that officials say privatization of the jail would undermine. Additionally, Arnette's theory of closing down the jail in order to use the funds for new vehicles would not work. As Commissioner Kathy Bryant has bluntly pointed out in the past, funds cannot be taken from one side and used for another; sort of like robbing Peter to pay Paul. In other words, county jail funds cannot be used to fund shortages in other areas of the Sheriff's Office, such as for new vehicles.
County Commissioner Carl Zalak said, "If they are so worried about deputies breaking down on the way to a call, or getting injured during a pursuit, then maybe the deputy should take five minutes and meet at a jiffy store to switch cars with a deputy that has a newer vehicle."
Zalak's theory could work if deputies were on an assembly line in a factory. Deputies do not punch out at shift end, if a deputy is in the middle of a call or in pursuit at the end of their shift, they wouldn't just turn off the emergency lights and call it a day. Deputies finish the last call including paperwork prior to going home to get sleep, just to start their 12 hour shift all over again. Essentially a patrol car is a deputies office. It does not seem likely that Zalak would pack up and switch his office every day.
Liz Walker wrote, "Five minutes at the Jiffy store to switch cars during an emergency or hot pursuit, really? Mr. Zalak, that's a joke right? If you are serious I'd love to know how you would personally feel or react if there was a home invasion happening at your house with your wife and five kids."
David Snyder wrote, "This makes it very clear that it is time to change these commissioners. It is time to make them unemployed. I have seen brain dead in my life but to make asinine statements like switching cars takes the cake. What a joke, but the joke is on we the people who rely on the protection of our Sheriff Department and to the brave men and woman who deal with the county trash day in and out. It makes you wonder whose interest this Commission is serving because it is not the law abiding people of this county."
Chief Latorre, with the Marion County Sheriff's Office told Ocala Post, Zalak fails to realize that patrol cars are driven for 12 hours straight. Even if vehicles were able to be shared, that would mean a vehicle would be driven for 24 hours straight; doubling the mileage and the wear and tear.
Ocala Post spoke with MCSO's Fleet Management Director, Bill Boss, and he said, "A duty vehicle will easily wear out at 150,000 miles. People do not realize that law enforcement vehicles must be overhauled and not just repaired in order to keep them safely on the road. This includes transmissions, rear ends, cooling systems, not to mention suspension and tires."
"When one thing is fixed something else breaks. Say the radiator and hoses are replaced, then the next day the water pump seizes up, or the heater core is replaced then the manifold begins to leak." He added, "Light bars and sirens are also an essential part of a patrol car. It is not just a warning for someone to pull over, but also to alert other drivers and pedestrians, and many times the lights and sirens stop working because they are so old."
Last year the MCSO spent $47,386.82 just on transmission repairs and $500,486.12 on auto parts alone. These numbers do not reflect the dollar amount spent on man hours. $500,000 in repairs that could have been used to purchase new vehicles, outweighing repair costs.
Records show that the BCC allows county non-emergency fleet vehicles to be replaced as soon as they show signs of wear, and rarely force county workers to drive non-emergency vehicles with over 150k miles. The county uses a point system to replace non-emergency fleet vehicles; the same point system that is used nationwide by most law enforcement agencies. According to a national study, a vast majority of law enforcement agencies take their patrol cars out of service between 90K and 120K miles, with an average of 103K miles. The Marion County Sheriff's Office requested that the BCC show the Sheriff's Department the same courtesy in allowing them to use the same point system, but the BCC denied their request. According to the Sheriff's Office, If they were entitled to use the same point system that Commissioners use to gauge replacement status on non-emergency county vehicles, the Marion County Sheriff's office would be replacing around 150 patrol cars.
70 percent of the Marion County Sheriff's Office patrol cars have over 100k miles, many well over 150k; the highest percentage in comparison with Osceola, Lake, and Volusia counties.
Marion County residents have turned to Facebook by the hundreds expressing their disappointment in the BCC, many proclaiming they will not vote for the same group that currently hold the positions. And many stating the BCC clearly cares more about land development than that of public safety.
While it is unclear if the BCC has a personal vendetta against the Marion County Sheriff's Office, or if public safety is just not a concern of the BCC, one thing is clear; the future of the current commissioners is not looking good for re-election while they continue to put the lives of Deputies and Marion County residents at risk.