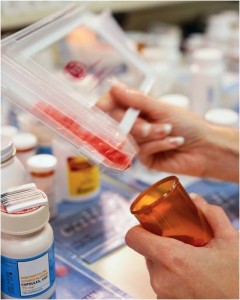 Tallahassee, Florida – Florida Department of Law Enforcement Commissioner Gerald Bailey announced that FDLE has begun a review of all cases processed by a chemist in FDLE's Pensacola Regional Crime Laboratory.
Last week, in conjunction with the Escambia County Sheriff's Office and State Attorney William Eddins' Office, FDLE began an investigation into missing prescription pain pills from the evidence room at the Escambia County Sheriff's Office. The missing drugs had been replaced with over-the-counter medications.
On Thursday January 30, 2014 investigators determined that each case with missing drugs had been analyzed by one FDLE Pensacola chemist identified as Joseph Graves. The FDLE Office of Executive Investigations opened a criminal investigation against Graves, he resigned his position shortly after. In Graves' resignation letter he told the state he wants money he feels is owed to him immediately.
FDLE is reviewing evidence from all cases handled by Graves between 2006 and present. Each regional Special Agent in Charge is contacting local law enforcement leaders and state attorneys so that they may take appropriate action regarding pending cases.
Beginning Monday, FDLE teams will be deployed to impacted agencies to inspect all evidence handled by Graves to confirm cases potentially compromised. Graves worked nearly 2,600 cases for 80 law enforcement agencies spanning 35 counties and 12 judicial circuits; potentially damaging every case he has been involved in and possibly threatening thousands of convictions obtained by prosecutors. FDLE agents said the quantity of drugs switched by Graves is quite large, and agents are not sure if Graves is a user or a trafficker.
According to FDLE officials, Graves is not cooperating with investigators and charges have not been filed against Graves at this time.
FDLE released the following list of counties that may be impacted.
Alachua County
Bay County
Calhoun County
Charlotte County
Collier County
Columbia County
Desoto County
Escambia County
Franklin County
Gadsden County
Glades County
Gulf County
Hamilton County
Hendry County
Hernando County
Highlands County
Holmes County
Jackson County
Lafayette County
Lake County
Lee County
Leon County
Madison County
Marion County
Monroe County
Okaloosa County
Osceola County
Pasco County
Santa Rosa County
Sumter County
Suwannee County
Taylor County
Wakulla County
Walton County
Washington County