The National Weather Service Hurricane Center has issued the following warnings for Marion County. ALL information contained within this article came directly from the NOAA.
This includes the State Road 200 area, Dunnellon, and Rainbow Lakes Estates area.
Hurricane wind conditions are expected somewhere within the Marion county area within the next 36 hours with peak winds at 50-65 mph with gusts between 85. However, residents should be prepared for winds of up to 110 mph.
According to recent forecast models, Marion County should begin to see the effects of Hurricane Irma beginning Sunday evening until Monday evening.
Article continued below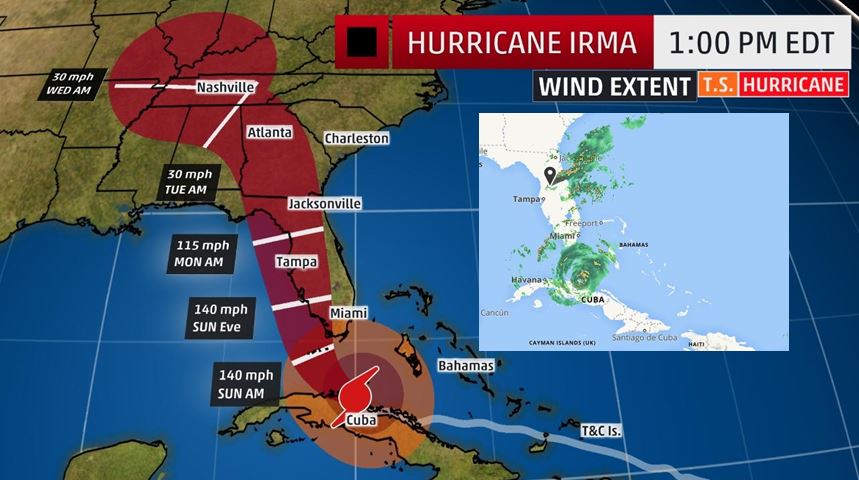 The current threat to life and property is high. Mandatory evacuation orders were issued Friday, September 8, 2017, for Marion County residents who live in mobile and modular homes. Residents who live in low-lying areas prone to flooding should also seek other shelters. Residents should not depend on first responders for help. It is up to you to protect yourself and your family, including pets.
The evacuation "window" is quickly closing.
The NOAA stated that residents should avoid bridges due to high winds, causeways, and any roads prone to flooding.
Flood watch
A flash flood watch is also in effect. This flood watch is especially vital to those who live on or near lakes. Marion County could receive 10-12 inches of rain in a short period of time but could exceed that amount. Heavy rain could cause the water level in lakes, ponds, and retention ponds to rise. Residents are urged to watch for rising water. Do not attempt to drive through standing water. Failure to take precautions could result in serious injury or significant loss of life.
The conditions of Hurricane Irma are favorable for tornadoes. Residents should have a plan of action in place in case a tornado presents itself. Secure boats, lawn chairs, patio furniture, trash cans, or any other object that could possibly become a projectile.
General Population Shelters:
North Marion Middle School (2085 W Highway 329, Citra)
Fort McCoy School (16160 NE Highway 315, Fort McCoy)
Lake Weir High School (10351 SE Maricamp Road, Ocala)
Forest High School (5000 SE Maricamp Road, Ocala)
Hammett Bowen Jr. Elementary (4397 SW 95th Street, Ocala)
Special Needs Shelters:
Belleview Middle School (10500 SE 36th Ave, Belleview FL)
West Port High School (3733 SW 80th Avenue, Ocala)
Pet-Friendly Shelter:
Vanguard High School (7 NW 28th Street, Ocala)
If needed, special needs individuals can contact the Citizens Information Line at 352-369-7500 to arrange transportation to a shelter.
Officials said that registered sex offenders are required to report to the Marion County Jail for sheltering.
Concealed carry
In 2015, Governor Rick Scott signed a bill allowing citizens to carry a concealed weapon without a permit during a state of emergency. SB-290 created an exception to the conceal carry statute and enables a person who carries a concealed weapon, or a person who may lawfully possess a firearm and who carries a concealed firearm, on or about his or her person while in the act of evacuating during a mandatory evacuation order issued during a state of emergency declared by the Governor pursuant to chapter 252, or declared by a local authority pursuant to chapter 870. As used in this subsection, the term "in the act of evacuating" means the immediate and urgent movement of a person away from the evacuation zone within 48 hours after a mandatory evacuation is ordered. The 48 hours may be extended by an order issued by the Governor.
SB-290 did not change any provisions related to the current concealed carry permit statute. SB-290 extended the ability for individuals without a concealed weapons permit to carry concealed during a mandatory evacuation.
Florida law prohibits any law enforcement officer from confiscating weapons from a person who is carrying a weapon but does not posses a concealed carry permit, during a mandatory evacuation order issued during a state of emergency. (Does not apply to anyone committing a crime)
The Bill only applies to law abiding citizens, not felons. (SB-290 documentation) (SB-290)
Any law enforcement official who attempts to confiscate a weapon from a law abiding citizen or attempts an arrest should be reported to the Attorney General and the Florida Department of Law Enforcement.
Curfew
Governor Rick Scott has stated that ALL Florida residents should try to avoid traveling on the road beginning at 3 p.m. Sunday. Especially in areas prone to flooding. All bridges should be avoided. Those who are in areas under a mandatory evacuation should leave.
Scott said, "The time to evacuate is now, not later. If you are concerned that you do not have a way to evacuate, please call our transportation hotline at 1-800-955-5504. We will get you out."