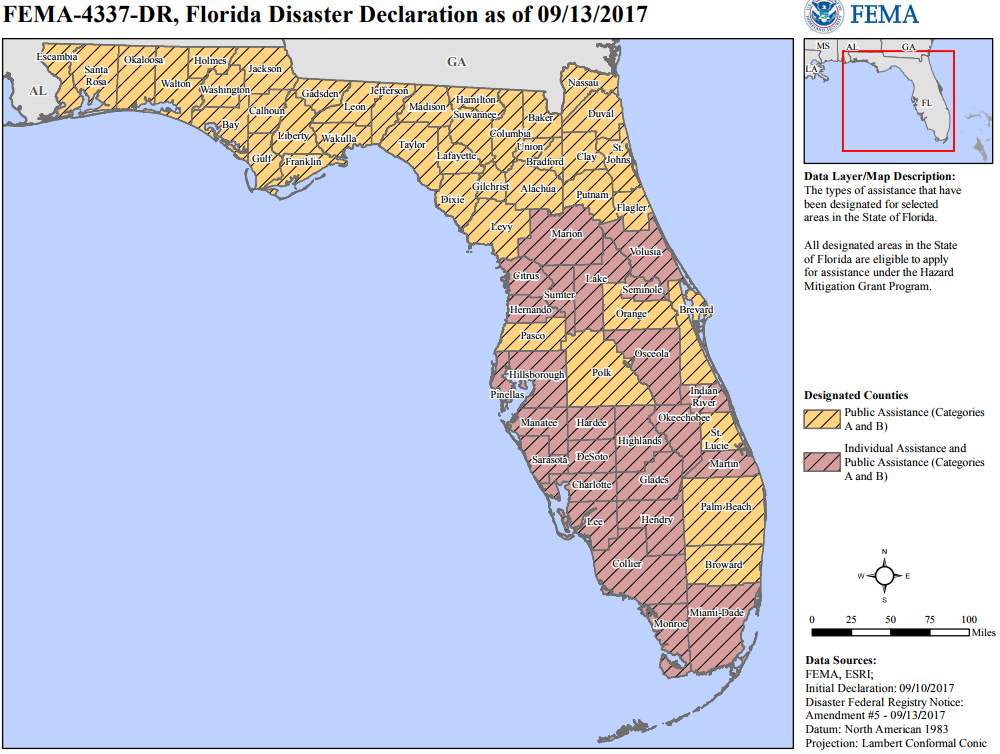 On September 13, 2017, FEMA released a Florida Disaster Declaration for areas hit by Hurricane Irma.
Marion County is listed for Individual Assistance (IA).
Ocala Post spoke with FEMA Thursday and confirmed the information.
According to FEMA, individuals seeking assistance must apply within 60 days.
FEMA does not provide assistance for food loss. If you need food assistance, dial 211 from your mobile phone.
Residents can apply online at www.DisasterAssistance.gov.
Designated Counties (Individual Assistance):
Brevard, Broward, Charlotte, Citrus, Clay, Collier, DeSoto, Duval, Flagler, Glades, Hardee, Hendry, Hernando, Highlands, Hillsborough, Indian River, Lake, Lee, Manatee, Marion, Martin, Miami-Dade, Monroe, Okeechobee, Orange, Osceola, Palm Beach, Pasco, Pinellas, Polk, Putnam, Sarasota, Seminole, St. Johns, St. Lucie, Sumter, Volusia
Have the following available to complete the registration process:
Social Security Number (SSN)
The primary applicant's SSN or
The SSN of a minor child in the household who is a U.S. Citizen, Non-Citizen National or Qualified Alien.
(NOTE: If you, your co-applicant, or a minor child in the household are a U.S. Citizen, Non-Citizen National, or a Qualified Alien and do not have a social security number, FEMA will not be able to complete a registration. The Social Security number is required for Identity Verification purposes.)
If registering for a business, the SSN of the person responsible for the business is required.
Financial information
Family's total gross household income at the time of the disaster.
Contact Information
Address and phone number of damaged dwelling.
Current mailing address and phone numbers where you can be contacted.
Insurance Information
Identify the types of insurance coverage you have.
Pen and Paper To record Registration ID number.
Electronic Funds Transfer/Direct Deposit Information
If you are determined to be eligible for assistance and would prefer funds be transferred directly to your account, you must provide the following banking information:
Institution name
Type of account
Routing and account number
If you own a business and suffered a loss:
Business Disaster Loans
U.S. Small Business Administration (SBA) Program (http://www.sba.gov/)
The U.S. Small Business Administration (SBA) offers affordable financial help to businesses and private, non-profit organizations in a declared disaster area. Help is available in the form of low-interest, long-term loans for losses not fully covered by insurance or other means.
SBA's disaster loans are the main federal assistance offered for the repair and rebuilding of non-farm, private sector disaster losses. This is the only SBA direct loan program and is not limited to small businesses.
Disaster Assistance and Emergency Relief Program for Individuals and Businesses
U.S. Department of the Treasury (Treasury) Program (http://www.ustreas.gov/)
If you have damaged or lost property in an area declared a federal disaster by the President, you may be able to get money back from the IRS right now.
Individuals and businesses in a federally declared disaster area can get faster refunds by claiming disaster losses on their tax return for the prior year. You can usually do this by filing an amended return.
For more information about the loss of a business or revenue, visit https://www.disasterassistance.gov/get-assistance/find-assistance. Answer a few questions and you will be directed to the proper department.
If you need further information or assistance:
Call the FEMA Helpline at 1-800-621-FEMA (1-800-621-3362). This number is also for users of 711 or Video Relay Service (VRS). TTY users can call 1-800-462-7585. Helpline services are available seven days a week from 7 a.m. to 11 p.m. ET.