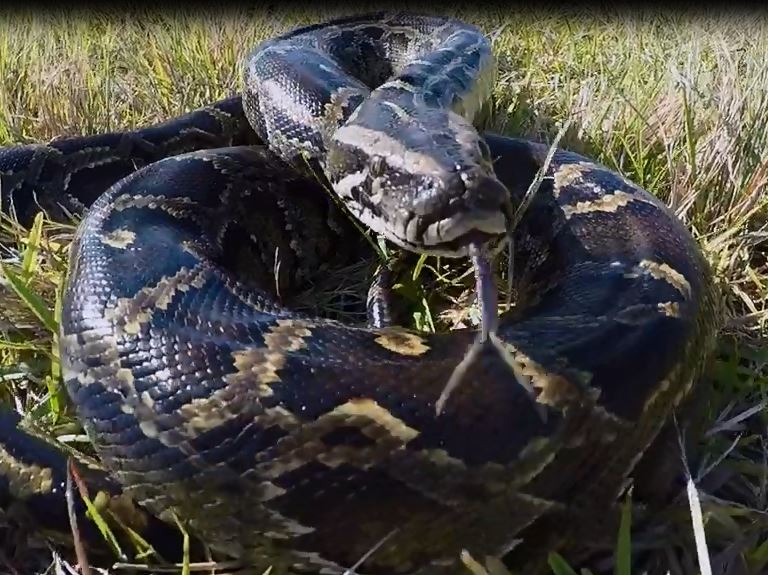 The Florida Fish and Wildlife Conservation Commission (FWC) is conducting a Virtual Snake Finding Mission, "releasing" toy snakes near popular Florida landmarks in an effort to raise awareness about nonnative species in Florida. The search for the toy snakes ̶ which are superimposed on pictures of Florida landmarks ̶ is part of the 2016 Python Challenge™. The project allows people from all over the world to be part of this effort to reduce the negative impacts of nonnative species.
Beginning Tuesday, Dec. 8, people can visit Facebook.com/MyFWC for a clue to where one of the brightly-colored toy snakes is virtually hiding. The first person to match our answer will win a Python Challenge™ Prize Pack, which will include a mixture of Python Challenge™ items like a T-shirt, tumbler, sticker hat and bag. The toy snake is included too. Every winner of the Virtual Snake Finding Mission will be entered in a grand prize drawing for a $100 Bass Pro Shops gift card!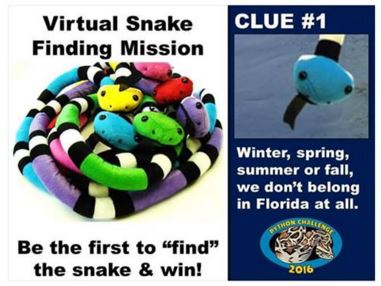 "The search for these snakes is designed to remind people that they can get involved and help be a part of the solution to invasive species in Florida," said Kristen Sommers, Wildlife Impacts Management section leader for the FWC. "The FWC hopes that the 2016 Python Challenge™ activates more people to go out, look for and either properly report or (when possible) remove Burmese pythons from the wild."
The 2016 Python Challenge™ is a conservation effort that includes an awareness event, social media contest and a month-long competition to remove Burmese pythons from public lands in Florida. The python removal competition in south Florida kicks off on Jan. 16, 2016, and ends on Feb. 14.
The aim of the 2016 Python Challenge™ is to promote Everglades conservation through invasive species removal.
Visit PythonChallenge.org for details about the Virtual Snake Finding Mission, as well as Python Removal Competition rules, registration, training and more.