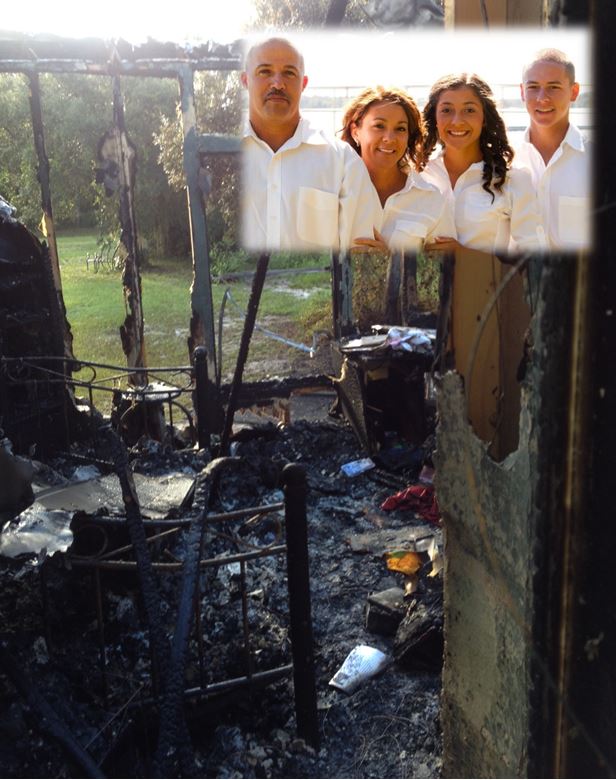 Umatilla, Florida — Who do firefighters turn to when they need a hero? Other firefighters, of course.
On August 15, Marion County firefighter Stacy Bilz, 43, and his family were away on vacation when his house was struck by lightning.
Stacy said that he had just returned to his hotel room when he realized he had a message from his neighbor.
"When I called her back she told me my house was on fire," Stacy said. "While I was on the phone with her, I could hear my two German Shepherds barking."
He said it was at that time he asked his neighbor, "Please get my dogs out, please."
He said all he could think about was the dogs.
Stacy said that his neighbor's husband, Mark Savage, jumped in his truck and drove across the five-acre parcel to help. Without hesitation, Savage threw a brick through the window and smashed doors in order to save the family pets.
A short time later, Lake County Fire Rescue, Station 72, responded to the scene.
Upon arrival, firefighters did not know that the home belonged to a Marion County firefighter.
"Lake County firefighters risked their lives to put the fire out as they do with every fire. They did not know the house belonged to a firefighter," Stacy said. "To them, it was just a fire and they did their job professionally."
He added, "When firefighters arrived, my house was already 50 percent engulfed in flames. This crew risked their lives to save some of our belongings in this blaze."
He said that firefighters were able to salvage his wife's wedding dress, some family photo albums, jewelry, and clothes.
"Family photos cannot be replaced, and my wife and I are extremely grateful," Stacy said. "The most important things to us were the dogs and the photos, everything else can be replaced."
To make matters worse, after the fire Stacy and his wife, Debi Bilz, learned that the homeowners insurance policy that had been sold to them was not enough to cover the value of the home. He said he blames himself for not double-checking the coverage.
A GoFundMe page was set up for the firefighter family, and so far, it has raised over $10,000.
Stacy said that this entire experience has been very humbling and that it has put things into perspective for him.
"I will not be able to go into a fire without thinking of the people in the same way that this has affected my family," Stacy said.
Stacy and Debi plan to rebuild their house, they said.
When asked if he had a message for all of those involved, he replied, "I cannot thank Lake County firefighters enough. It means the world to us and you will forever be my brothers."
As for his neighbors, he said his dogs are family, and that there is no way to express the gratitude he has for his neighbors saving his two Shepherds.
"I am very thankful for my neighbors," Stacy said.
He also said that he is grateful for the support the community has shown his family.
Stacy started out as a Marion County volunteer firefighter in 1998, but has been a paid professional with Station 27, in Weirsdale for the past eight years.
If you would like to help this firefighter family, please visit http://www.gofundme.com/wt2a7s24.