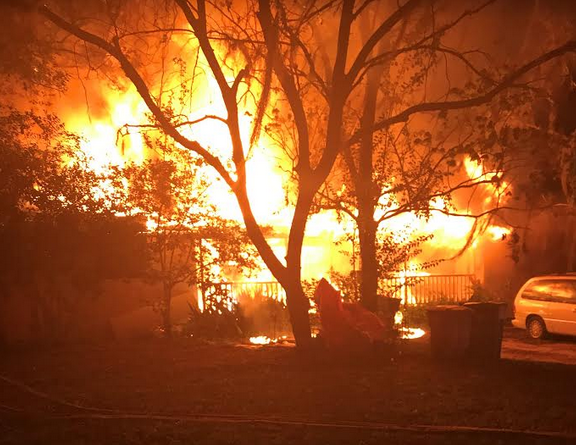 Ocala, Florida —  Ocala Fire Rescue (OFR) responded to reports of a fire on the 500 block of Southeast 28th Avenue shortly after 11 p.m. on Thursday, Feb. 4.
OFR Engines 2, 3, and 5, Rescue 2, Squad 1, Tower 1, Battalion Chief 22, and a Safety Officer were dispatched to the call.
Upon arrival, crews encountered a single-story residential structure engulfed in flames. The roof of the structure had already been compromised.
According to a press release, Engine 5 established a water supply while crews from Engines 3 and 2 pulled their pre-connected hose lines to the structure's front and rear.
Due to the fire's magnitude, OFR said units took a defensive stance until the heavy flames were knocked down. Once the fire was under control, firefighters forced entry into the back of the residence to complete a search. The area was deemed clear.
Crews continued to douse the fire scene until neither flames nor hot spots remained.
No one was inside the residence at the time of the fire and no injuries were reported.
The cause of the fire is unknown.
The Ocala Police Department, Ocala Electric Utility, and Marion County Fire Rescue also responded.
The fire remains under investigation.