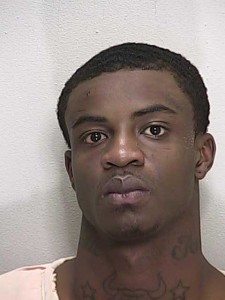 Ocala, Florida — On March 5, 2014 The Marion County Sheriff's Office Criminal Interdiction Unit stopped a green Honda at Pine Course Track and Willow Road for traveling 45 MPH in a 30 MPH zone, as well as for the driver not wearing a seat belt.
Deputy Hay made contact with the driver, Duboris Sweet, as Deputy Barker made contact with the passenger, Christopher McCallum, 21. While speaking with McCallum, Deputy Barker smelled a strong odor of marijuana coming from inside the vehicle. Deputy Hay then asked the driver,Sweet, to step out of the vehicle. Deputy Hay asked Sweet if there was anything illegal inside the car, at which time Sweet admitted to smoking marijuana inside the car earlier that day.
Deputy Barker asked McCallum if he had any weapons on him, and he stated, "No." Deputy Barker then asked McCallum to step out of the vehicle, at which time Deputy Barker saw [him] touch his right cargo pocket of his shorts. Deputy Barker noticed a large bulge in the pocket that McCallum was touching, according to reports. Deputy Barker then saw a black handle sticking out of the pocket flap that was partially open.
Deputy Barker immediately grabbed the bulge and pinned it against McCallum's leg to prevent him from retrieving it. After making the other deputies aware of the gun, all of the deputies on scene ordered McCallum to put his hands in the air.
While McCallum was still sitting in the car, Deputy Barker removed a silver revolver from [his] cargo pocket and placed it on the roof of the car.
Deputy Barker placed one handcuff on McCallum, at which time he tried to jump out of the car. Using [his] momentum, Deputy Barker tried escorting McCallum to the ground but McCallum broke loose from Deputy Barker's grip and fled on foot. McCallum ran through a patch of woods at Pine Coarse Track and Pine Course but he stumbled to the ground after tripping on some shrubbery.
Deputy Nix arrived, and he and Deputy Barker then placed McCallum in handcuffs.
During questioning McCallum said, "I carry the gun for protection because I have enemies that are after me." He also stated that he was not going to hurt anyone with the gun and he didn't know it was stolen.
The gun had six rounds in it and it was reported stolen in 2009.
McCallum was convicted of Robbery with a Firearm in 2007 when he was just 15-years-old. In 2010, when he was 18, he was arrested again and charged with Possession of a Weapon by a Convicted felon, Cocaine Possession, Possession of Drug Paraphernalia and Violation of Probation. In 2011, then 19, he was arrested and hit with eight charges. In 2013 he was arrested four times, and he was just released from jail on January 4, 2014 after serving a six month sentence after being convicted of Carrying a Concealed Weapon, Resisting Arrest, Possession of A firearm by a Felon and Obstruction.
McCallum is currently locked up at the Marion County Jail on a $16,500 bond. He is charged with Possession of a Weapon by a Convicted Felon, Possession of a Stolen Firearm, Carrying a Concealed Weapon, Resisting an Officer, Possession of Ammo by a Convicted Felon and he received a citation for not wearing a seat belt.
Duboris Sweet was ticketed for speeding and released.
No deputies were injured during the foot pursuit.