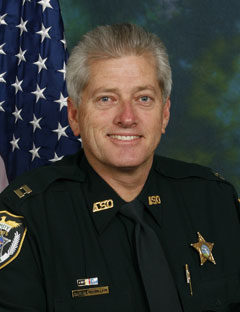 Gainesville, Florida — Thursday, March 06, 2014, Alachua County Sheriff Sadie Darnell placed Captain Keith Vermillion, one of her top commanders, on Administrative Suspension with pay effective immediately. The internal investigation was initiated by Sheriff Darnell and will be conducted by Captain Latrell Simmons, Office of Professional Standards.
Sheriff Darnell said, "I have been provided with credible information which causes me great concern and which needs to be thoroughly and properly investigated before I will make further comment (s)".
Captain Keith Vermillion was hired by Sheriff Darnell in February 2007.
He has served in the following capacities as a commander:
Office of Professional Standards from February 2007 until June 2011 as a direct report to Sheriff Darnell; Captain Vermillion assumed full command of the Criminal Investigations Division (CID) Commander in June 2011 and is where he currently serves. He is responsible for the Detective Bureau, the Drug Task Force, and the Forensic Unit. As the CID Commander, Captain Vermillion reports directly to Major Mike Fellows.
He was previously employed with the Savannah-Chatham Metropolitan Police Department (2001-2007) where he served as Director of the Savannah Impact Program, a multi-agency offender re-entry program. During his tenure with the Savannah-Chatham Metropolitan Police Department he was the recipient of numerous awards including the Georgia Board of Pardon and Parole Innovations Award (2002); the Dr. Curtis McClung Award of Excellence from the Georgia.
This is a developing story.