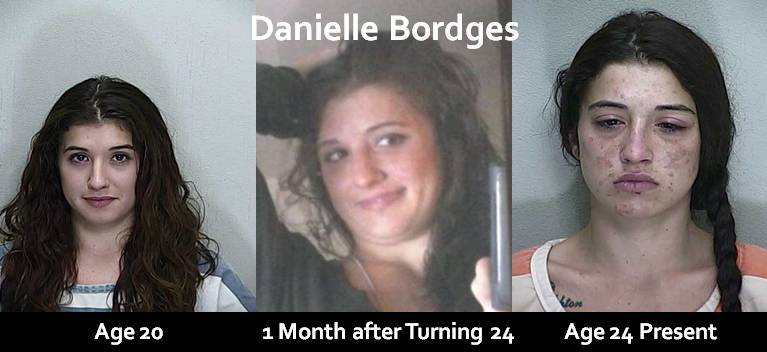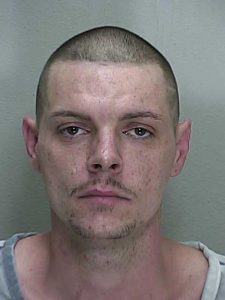 Ocala, Florida — Danielle Bordges, a Forest High School graduate inspired to become a healthcare professional and mother of a young boy, was just 18-years-old the first time she was arrested.
Bordges has literally spent her entire adult life in-and-out of the Marion County Jail; mostly for charges of Simple Battery.
Eventually Bordges started following the wrong crowd and began dating men that were abusive as well as men that were into drugs. Although Bordges started out with alcohol, she was eventually introduced to Methamphetamine.
Experts say Methamphetamine not only destroys appearances, families, and the individual person, but also a person's soul. Methamphetamine addiction is often described by specialists as a person's mind has left their body and the devil has taken over.
According to an unnamed source, Bordges has a good family that loves her. The source described the family as the nicest people she has ever met. The source also added that Bordges has a bit of a mean streak, hence all the arrests for Battery.
In October 2013, Bordges' 24th birthday, she wrote, "I've had a rough life that only I take responsibility for and have suffered and do suffer everyday because of my childish decisions. " Adding, "I am clean now, no drinking, no bulls**t……..I'm different. I want to be destined for amazing things, I don't need any distraction–I just need my son."
Bordges was clean, but then she met Darryn Surdam, 31, a drug pusher/user who frequently dealt in Morphine, Methamphetamine, and Xanax.
On March 5, 2014, Marion County Sheriff's Deputies, Ellis and Robertson, responded to the Royal Motel on South Pine in regards to a verbal altercation.
When Deputy Ellis arrived, the victim told him that she went to the motel to check on a friend. She said when she arrived she was invited into a hotel room by Darryn Surdam. Once inside the room, she said Bordges snatched her purse and began to dump it out. Surdam then escorted the victim out of the room and pushed her onto the concrete outside, causing her to hit her head. According to reports, Surdam then blocked the door to prevent the victim from gaining entry. The victim said Surdam then cracked the door open and began to throw her personal belongings outside.
Witnesses told Deputy Ellis that Surdam did throw the victim to the ground causing her to strike her head on concrete.
Surdam and Bordges both denied any involvement in the attack.
Deputy Ellis arrested both Surdam and Bordges.
While searching Surdam, Deputy Robertson recovered a glass pipe from [his] pocket that tested positive for Methamphetamine. Surdam has been arrested 10 times since 2000, also beginning at the age of 18.
While booking Bordges into the jail, staff located a small blue pill in her left front pocket, later identified as Clonazepam 1 MG.
Deputy Ellis discovered a keychain with an opened red container attached to it on the rear floor board of his patrol car. On the seat where Bordges was sitting, there was a small purple pill identified as Morphine 30 MG and a small white pill identified as Zolpidem. Deputy Ellis had cleaned out his vehicle prior to Bordges being arrested, therefore the pills did in fact belong to Bordges, according to reports.
Surdam was charged with Possession of Drug Paraphernalia and Domestic Battery.
Bordges was charged with Robbery by Sudden Snatching, Possession of a Controlled Substance Without a Prescription, Smuggling Contraband into a Detention Facility, and Violation of Probation for Possession of Dilaudid.
The unnamed source said, "I am scared that one day she will end up dead."
Both are still currently in the Marion County jail.
It is unclear on the status of Bordges' young son.