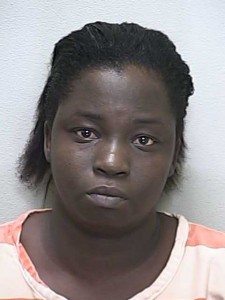 Ocala, Florida — On November 11, 2013 Officer Rossi with the Ocala Police Department responded to the area of 1644 NW 4th Street in Ocala in response to a call about teenagers fighting.
According to reports when Officer Rossi arrived only the victim and the witnesses were still on the scene. The victim, a black female age 12, told Officer Rossi that she was walking home from Howard Middle School when a maroon four door car pulled up next to her. An adult female later identified as Felecia R. Scott, 34, exited the vehicle with her children and began fighting with the victim.
Multiple Witnesses on the scene were able to provide the tag number of Scott's vehicle and confirm the statements of the victim. The witnesses confirmed that Scott struck the 12-year-old victim as well as allowed her children to attack the victim.
Officer Rossi used the provided tag number to track Scott to her residence at Parkside Apartments. Officer Rossi made contact with Scott and her children. According to reports, Scott told Officer Rossi she was on her way to talk to the victims' mother when she spotted her [The victim] walking along NW 4th Street. She turned her vehicle around and confronted the victim about "threatening" her children, telling the victim if she wanted to fight she could do it right now. Scotts said she called her two daughters and then they began fighting. Witnesses stated that Scott struck the child in the face. Scott and her daughters fled the scene after they were finished beating up the 12-year-old victim.
According to reports, after Officer Rossi asked Scott about striking the victim she became agitated and got loud with the officer. Scott denied striking the child.
Officer Rossi place all three suspects under arrest and they were transported to the Marion County Jail. The children were taken to the Juvenile Detention Center.
Scott was charged with Child Abuse and two counts of Contributing to the Delinquency of a Minor.
Scott has since been released on a $7,000 bond.