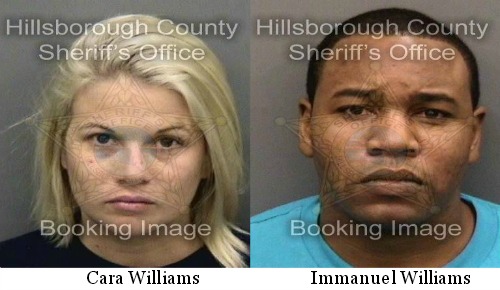 Tampa, Florida — Acting United States Attorney A. Lee Bentley, III announces that Immanuel Lee Williams (28) and Cara Lee Williams (28), both of Tampa, have been arrested by the FBI and charged in a criminal complaint with conspiracy to obstruct, delay, or affect commerce by robbery and conspiracy to commit bank robbery. If convicted on all charges, each faces a maximum penalty of 20 years in federal prison.
A criminal complaint is merely a formal charge that a defendant has committed a violation of federal criminal laws.
According to the criminal complaint, from December 5, 2012 to date, Immanuel Williams and Cara Williams conspired to rob 13 federally insured banks in the Middle District of Florida and two federally insured banks in Alabama. To carry out the robberies, both are alleged to have worn disguises and used notes demanding money from the banks.
One of the robberies was at the Compass Bank at 2620 SW 19th Avenue Road, Ocala, on October 15, 2013 and within a hour, the CenterState Bank at 114 West Belt Avenue in Bushnell was also robbed by a suspect wearing the same disguise as in the Ocala bank robbery, according to reports.
Both individuals made their initial appearances in Tampa on November 12, 2013, before U.S. Magistrate Judge Anthony E. Porcelli. A bond hearing is set for Cara Williams on November 14, 2013, at 11:30 a.m. Immanuel Williams reserved on the matter of bond and is being held without bail.
According to the FBI, the couple stole $54,740 from the 15 banks that were robbed. The FBI says the duo was using the stolen money to pay bills via Western Union and the couple had far more debt than they did cash. Immannuel Williams was a part time temporary employee with the Unites States Postal Service but had not worked since August. Cara Williams' employment is unknown and according to surveillance records the two never left their homes for work. Although investigators say Cara would receive a check in the mail every two weeks from a business that was not named in the report.
This case was investigated by the Federal Bureau of Investigation, Tampa Police Department, Polk County Sheriff's Office, Hillsborough County Sheriff's Office, Auburndale Police Department, Lee County Sheriff's Office, Sumter County Sheriff's Office, Orange County Sheriff's Office, and Ocala Police Department. It will be prosecuted by Assistant United States Attorney Joseph W. Swanson.