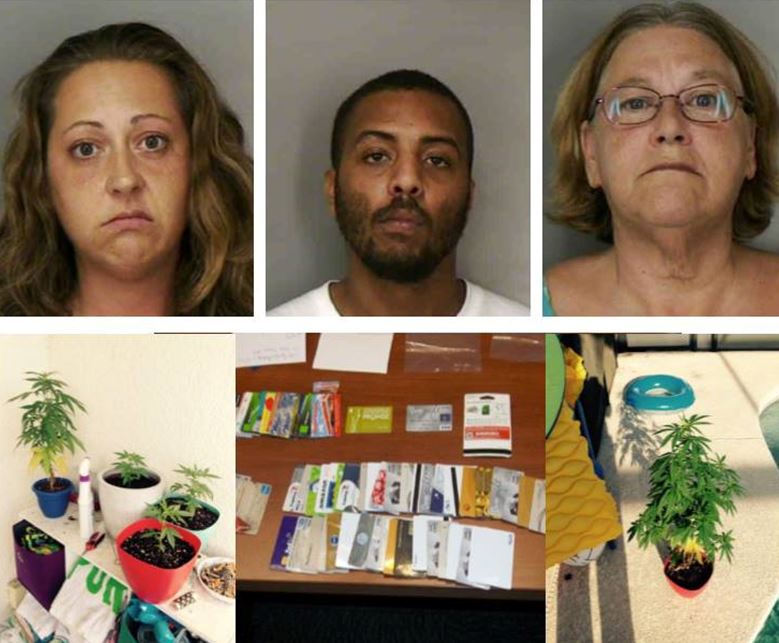 Davenport, Florida — An ongoing credit card counterfeiting investigation led to three arrests after Polk County Sheriff's Office deputies served a search warrant at 626 Sunset View Drive, Davenport.
According to police reports, in January 2015, a victim in Texas contacted PCSO in reference to his debit card being used in Davenport to withdraw funds.
The victim told detectives he has never been to Davenport, nor does anyone have access to or permission to use his debit card. He has stated that he had never lost his debit card.
Detectives obtained video surveillance footage of a suspect using the victim's debit card information at a Center State bank ATM in Davenport. Through investigation, the suspect was positively identified as Harvey Joshua Jackson, Jr., 29, of Davenport.
Detectives then obtained a search warrant for Jackson's residence. When they arrived, Jackson was inside, with his girlfriend, Amanda Schilt, 34, and her mother, Marlene Schilt, 58, along with two minor children, who all live in the same residence.
During the search, detectives found eight potted marijuana plants in plain sight around the screened in pool enclosure.
According to reports, Harvey and Amanda told detectives that the plants belonged to them and denied selling the marijuana. Instead, they stated that they grew it for personal use and that they regularly smoke marijuana.
The family had told the children that the marijuana plants were tomato plants.
Detectives also found a laptop computer with a re-encoder attached to it, which is used to place encoded information from the magnetic strip of one payment card onto the magnetic strip of a different card.
Harvey told deputies he used the laptop and the re-encoder to create counterfeit debit and credit cards. Detectives seized approximately 85 counterfeit cards.  Harvey also told detectives that he obtained financial information from the internet — credit card numbers and associated PINs — and used it to encode the cards.
A 9mm semi-automatic handgun was also found in Harvey and Amanda's bedroom. Harvey is a convicted felon. He was convicted of Felony Grand Theft in Kansas in 2008.
During the investigation, detectives learned that Harvey was unemployed and that Amanda and Marlene had been collecting $2,250 per month in disability and food stamp payments. Detectives said this cost hard working taxpayers thousands of dollars.
Harvey was arrested and charged with the following:
Trafficking in Counterfeit Credit/Debit Cards
Use of Re-encoder to Defraud
Fraudulent Use of Credit/Debit Card
Criminal Use of Personal Identification
Possession of a Firearm by a Convicted Felon
Maintaining a Dwelling for Drug Use
Petit Theft
Cultivation of Marijuana
Possession of Paraphernalia
Contributing to the Delinquency of a Minor
On Thursday, he remained in jail on $16,250 bond.
Amanda & Marlene Schilt were arrested and both were charged with the following:
Cultivation of Marijuana
Maintaining a Dwelling for Drug Use
Contributing to the Delinquency of a Minor
They both remain in jail on no bond.
"Crimes like these are a sign of the times – no longer does a thief have to steal your wallet to steal your debit card and your money. We are early in this investigation and it is too soon to say how many people these suspects have victimized. Fortunately, they are now in the Polk County Jail, where there is no Internet," Polk County Sheriff Grady Judd said.
The Department of Children and Families responded to the scene and took the children into state custody.
If you think you might have been a victim of these criminals, please contact the Polk County Sheriff's Office at 863-298-6200.