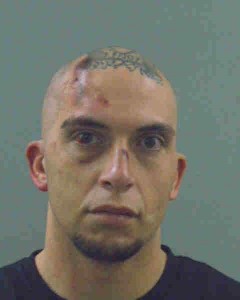 South Ogden, Utah — Police have now released the dash cam video of a dangerous fugitive that was arrested earlier this month.
According to reports, Sergeant Trent Olsen and Officer Scott Brown pulled over a vehicle and during a conversation with the driver they realized there was a wanted fugitive sitting in the back seat.
The suspect, Scott Sanders, 30, had been on the run for several weeks, and the police department had recently made Sanders a priority. When police realized Sanders was in the vehicle they knew he was considered armed and extremely dangerous, and he could potentially be a threat to them as well as the other passengers in the car. Olsen immediately radioed for backup.
Reports indicate that there were four adults and five children between the ages of two and eight in the car, which made the traffic stop very tense once they realized Sanders was in the vehicle.
During the stop police asked the driver turn off the vehicle and that's when things turned violent. Police said Sanders became agitated and began telling the driver to take off. Police tried to remove the keys from the ignition at which time Sanders jumped from the backseat to the front seat and grabbed the officer's arm then returned to the backseat and began reaching for the floorboard.
Officers said they tried to subdue Sanders by using a taser, however the taser didn't seem to faze him. After officers fired the taser at Sanders he jumped out of the car and a fight ensued. According to reports, police noted that it was quite a fight, and that Sanders continued to fight until he was finally overpowered and handcuffed.
Police can also be heard in the video telling a citizen that had a dog to back up before they get arrested.
The police officer that was most involved in the traffic stop said that his worst fear was that Sanders would initiate a gunfight with those children in the car.
Chief Darin Parke said, "In my 20 years of working with Olsen I have never heard that kind of language come out of his mouth, which tells me he must have been extremely terrified of what could have happened."
A search of the car turned up a loaded weapon on the floorboard where Sanders had been reaching, a meth pipe and heroin needle.
Officers believe Sanders was under the influence of a narcotic at the time of his arrest.
Sanders was transported to the Weber County Jail and charged with, Assault on a Law Enforcement Officer, Obstruction, Resisting Arrest With Violence, Possession of a Firearm by a Convicted Felon, and Child Endangerment.
The driver of the vehicle was also arrested for aiding a know fugitive. The man seen getting out of the car and walking away is still wanted for questioning as he is believed to have warrants for his arrest.
The children were not physically harmed during the altercation, although counseling was offered.