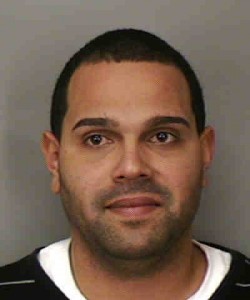 Polk County, Florida — Detectives arrested Polk County Deputy Sheriff Julio Jose Garcia, 26, on Wednesday, January 22, 2014, charging him with Unlawful Compensation/Reward for Official Behavior, Use/Display of a Firearm while Committing a Felony , and Falsifying an Official Record/Document by a Public Servant.
Sheriff Grady Judd said, "We conduct extensive background checks on our deputies prior to hiring and training—including polygraph examinations and psychological testing. Despite our best efforts, on rare occasions an employee will disappoint us and the communities we serve. When they do, we will hold them accountable for their actions. We will not tolerate this kind of outrageous conduct by someone sworn to uphold the law and protect our citizens. When we learned of the first allegation, we immediately initiated an investigation, sought other possible victims, and then conducted undercover surveillance. Garcia is not worthy to wear the Sheriff's Office uniform and he never will again."
According to the arrest affidavit, the charges stem from separate allegations made by two women who had been arrested by Garcia. The two women told investigating deputies that Garcia propositioned them to expose their bodies or allow him to touch their bodies in exchange for preferential treatment. The firearm charge is related to Garcia wearing his agency firearm at the time of the alleged conduct.
The first allegation was made on November 4, 2013, during an interview about an unrelated investigation. The woman told the detective that she had been propositioned by Garcia while she was under arrest. Garcia led the women to believe that if she showed him her vagina he would allow her to go free. The woman stated that she pulled her shorts to the side and showed Garcia her vagina. Afterwards Garcia transported her to the jail. When confronted with the first allegation on November 5, 2013, Garcia told deputies that he wanted to have a lawyer present and that he did not want to speak to deputies about the allegations.
Continuing to investigate, detectives began reviewing interactions Garcia had with other women arrested by him. One woman contacted by investigating deputies on January 2, 2014, told a similar story to the one told by the other woman. Garcia asked to look at and touch her in exchange for letting her go. The woman said that Garcia stuck his hands down her pants while he was searching her for contraband and patted her vagina. The woman said he then drove to an abandoned building, removed her from the car, and told her to unbutton her jeans. The woman said as soon as she did, Garcia stuck his hands in her pants and massaged her vagina and anus for about 15 seconds. She said Garcia then told her to button her pants back up, at which time he placed her back in the patrol car and transported her to the jail.
PCSO detectives conducted undercover surveillance of Garcia on January 5, 2014, and January 9, 2014, while he was on duty working in a patrol function. Undercover detectives discovered that Garcia left his assigned area numerous times while on patrol without a request to his supervisor or documenting that he had left his assigned area. Garcia later falsified official records by stating that he had patrolled certain areas at certain times when he was observed by deputies conducting surveillance to be elsewhere.
Garcia was suspended on Friday, January 17, 2014, pending termination procedures. Garcia was given the opportunity to resign, but he refused.
Garcia was hired by the Polk County Sheriff's Office in August, 2011. His salary was $40,252.