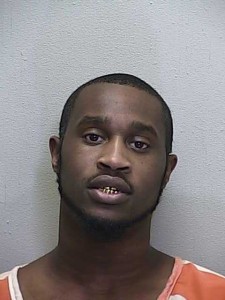 Ocala, Florida — A high speed chase that put deputies and Marion County residents in danger ended with one arrested and two on the run.
Trevin Shaquille Jackson, 21, is still behind bars after he led deputies on a high speed chase on January 15, 2014.
K-9 Deputy Collins attempted to stop a grey Dodge after noticing the tint on the vehicle was extremely dark. After Collins activated his emergency lights, Jackson refused to pull over and continued traveling north on SW 12th Avenue.
During the pursuit Jackson stopped his vehicle for a brief moment, allowing two passengers out of the vehicle, at which time the pair fled on foot. Jackson then continued to recklessly flee from Deputy Collins at a high rate of speed. With sirens and lights blazing, Collins maintained the pursuit.
Jackson finally stopped his vehicle, opened the driver's side door and bailed out of the car, fleeing on foot.
Deputy Collins began to yell K-9 warnings to Jackson, however Jackson continued to run. Collins then released K-9, Sig, and Sig was able to apprehend Jackson approximately one block from where Jackson had stopped his vehicle.
A search of Jackson's car turned up several baggies that tested positive for cocaine. Additionally, razor blades that had cocaine residue on them were also found.
Jackson is a six time convicted felon. Jackson first had a run in with the law at the age of 19 (2012) when he was arrested and convicted of Aggravated Battery with a Deadly Weapon. In 2013 he was convicted of Aggravated Assault with a Deadly Weapon with Intent to Kill. His other charges include Possession of Cocaine (multiple), Battery, Resisting Arrest (multiple), Fleeing and Eluding (multiple), and Driving while License are Suspended or Revoked (multiple).
Jackson is currently being held without bond. He received eight stitches for his dog bite wounds.
The tint on Jackson's car tested darker than the legal limit, he was issued a warning for the tint.
Information on the two suspects that fled on foot is not available at this time.