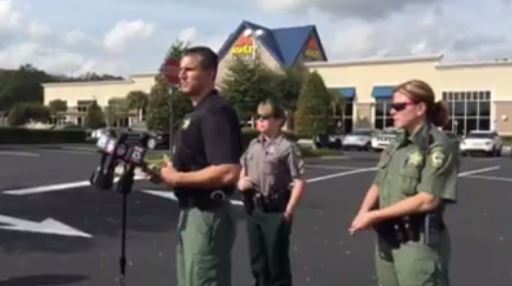 Dade City, Florida — Three shots were fired at two Pasco Sheriff's Office deputies conducting traffic enforcement early Sunday morning in Dade City.
At approximately 3:30 a.m., Sunday, the two deputies were inside their individual cars in the parking lot of Northside Baptist Church, 37047 Lock Street, monitoring the intersection of 21st and Lock Street, when three bullets were fired at them.
No one was hit and no one was injured.
Deputies said the bullets were so close they could hear the whizzing sound of each projectile as they flew by. Deputies did not see the suspect or the vehicle from which the shots were fired.
Area residents also heard the three gunshots and reported seeing a small, dark-colored vehicle with tinted windows in the area at the time of the shooting.
Pasco Sheriff's Office deputies are also searching for the person(s) responsible for graffiti encouraging the shooting of law enforcement members found Friday in Wesley Chapel. The threat, which was spray painted on a road barrier at the end of Mansfield Road in the Meadow Point subdivision, read: "Shoot MP Cop." The vandalism took place sometime between 2 p.m. and 7 p.m. Friday.
Anyone with any information that could lead to the arrest of the suspect(s) involved should call the Pasco Sheriff's Office at (727) 847-8102 or 1-800-706-2488. Tips can also be provided online and anonymously at: https://www.tipsubmit.com/WebTips.aspx?AgencyID=615.