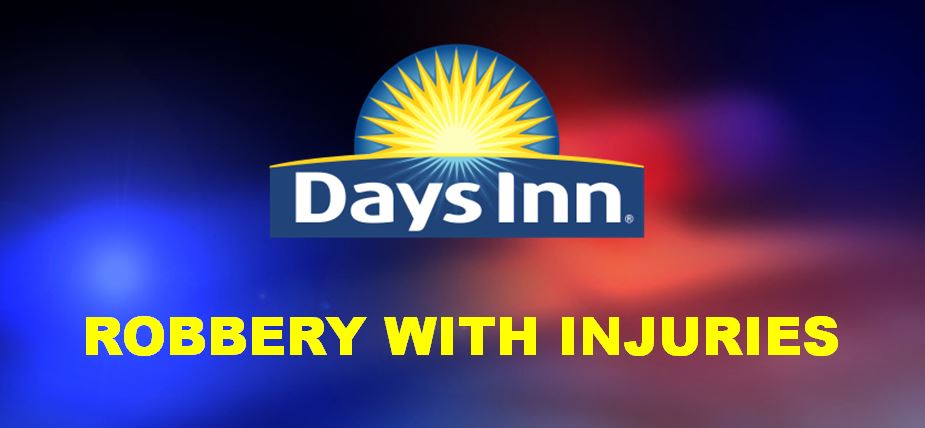 Ocala, Florida — On Wednesday, February 18, 2015, at approximately 10:30 p.m., the Days Inn located at 3811 Northwest Blitchton Road was robbed.
The female clerk working the front desk advised that a black male came into the lobby, jumped over the desk and stated, "Shut up b**ch." At that point, the suspect tackled her and punched her in the face.
The suspect then tied her hands together and demanded money.
After taking cash out of the drawers at the front desk, he asked the victim where her purse was. She lied and told him it was in the back kitchen in an attempt to try and get him to go to the back so she could call 911. However, he caught her trying to call for help and punched her in the face again.
The suspect located the clerk's purse at the front desk, dumped it out, and stole the victim's cell phone.
The suspect then fled the scene.
Officers Rachel Mangum and Megan Ferguson arrived at the scene and observed the victim to be bleeding profusely from the face and her left eye was swollen shut. EMS was contacted immediately and the victim was transported to a local hospital for treatment.
Several hours later, close to 3:40 a.m, February 19, 2015, it was realized that the victim's keys and vehicle, a 2013 silver Nissan Rogue, were missing from the Days Inn parking lot.
The vehilcle was entered into the National Crime Information Center (NCIC) as stolen and a be on the lookout (BOLO) was issued.
The suspect was described as a black male in his early 20's, standing approximately 6' to 6'1" in height with a slender build. He was wearing gray sweatpants, a black t-shirt, and had a piece of white cloth tied around the lower portion of his face.
The victim was also able to scratch the suspect on his face and top of his head.
Anyone with information on the identity and/or location of this suspect is asked to call Detective L. Uptagraft at 352-369-7143. Information may also be submitted through our free mobile app, MYPD, or through Crime Stoppers of Marion County by calling 352-368-STOP(7867), texting tips to 274637 using keyword 368STOP, or submitting tips to www.ocalacrimestoppers.com.
There was no video surveillance available for this incident.