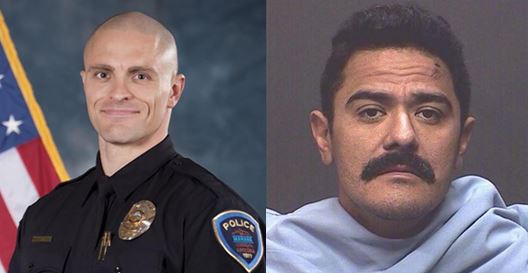 A dash cam video from a February 19, incident was finally released to the media following the completion of an investigation.
The video showed a Marana, Arizona, police officer intentionally run down 36-year-old Mario Valencia with a police car.
The video has stirred up debate of whether or not the officer's actions were justified.
Police Chief Terry Rozema said as far as he is concerned, the officer's actions were completely justified.
Police in Arizona said, yes, an officer intentionally used his car to run into a suspect who had a rifle, and he probably saved lives.
"Everything in the video seems to point towards an obvious excessive use of force. It is miraculous that my client isn't dead," said attorney Michelle Cohen-Metzger.
In the video, an officer can be heard over the radio saying that the suspect had fired one round in the air with a rifle he had just stolen from a Walmart. The officer was following the suspect at a slow speed.
Then, another patrol car races past the officer, and rams the man from behind. The officer then slammed into a short cinder block wall next to a driveway.
Video from Officer Michael Rapiejko's camera shows the officer ramming the man and the windshield cracking as the car hit the block wall.
"Oh Jesus Christ. Man down," the officer in the first car said.
Police in Marana, which is about a half-hour from Tucson, have justified Rapiejko's actions.
"If we're going to choose between maybe we'll let him go a little bit farther and see what happens, or we're going to take him out now and eliminate any opportunity he has to hurt somebody, you're going to err on the side of, in favor of the innocent people," Chief Rozema said. "Without a doubt."
Rozema said the situation warranted deadly force because the suspect was headed to an area where several hundred people were working.
Marana police said this situation was part of a crime spree that began with Valencia's robbery at a 7-Eleven while he was wearing only underwear. He then broke into a church and set it on fire, followed by a home invasion. He then stole a car.
"This officer made a split-second decision, and in retrospect, when all the dust clears, I think we look at this and say, yeah, there's things we can learn from this," he said, "but the entire community is safe, all the officers are safe, and even the suspect in this case is safe."
Cohen-Metzger said officers didn't make any effort to de-escalate the situation of a man "clearly suicidal, clearly in crisis."
When Valencia arrived at the hospital he was in serious condition. He was released into police custody two days later.
Valencia faces 15 charges, including Aggravated Assault (x3), three counts of Armed Robbery (x3), and Possession of a Deadly Weapon by a Convicted Felon.
His next court appearance is May 18. He is in the Pima County Jail. Authorities said no charges would be brought against the officer.
Officer Rapiejko has received a tremendous amount of support from members of the community and business district where the incident occurred.
Officer Rapiejko, whose nickname is ROBOCOP, previously worked for the New York Police Department.
Please follow and like us: