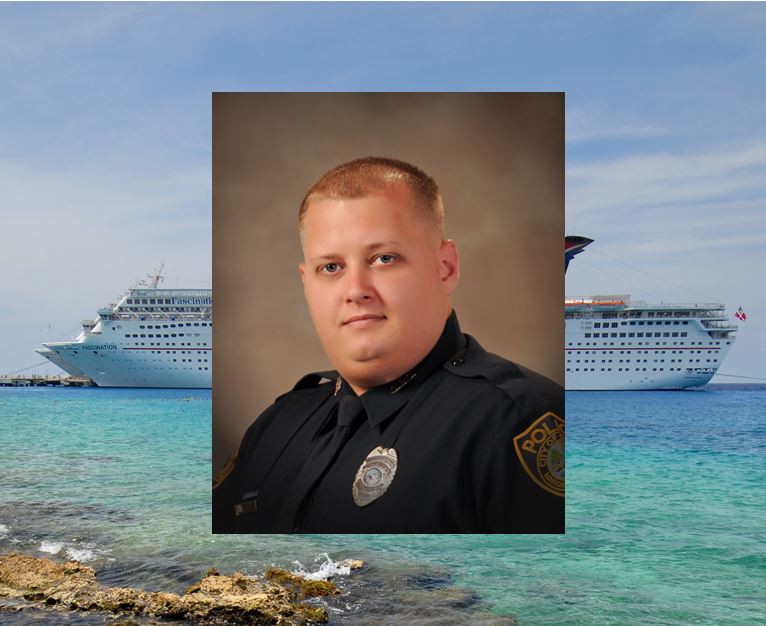 [Last updated on April 17, 2015, at 10:30 p.m.]
Ocala, Florida — Timothy Haley, father of fallen Ocala Police Officer Jared Forsyth, said Carnival Cruise Line refused to refund his money for a family cruise that had been planned prior to Forsyth's death.
Officer Forsyth was shot during a training exercise on April 6, 2015. He was transported to Ocala Regional Medical center where he was rushed into surgery. Officer Forsyth passed away while on the operating table.
The cruise was supposed to be in celebration of Haley's 60th birthday.
The family said that after burying their son, emotionally, they just couldn't take the trip.
"I needed help, and with something as tragic as this, and all I got back from Carnival was how much of my money they could keep," Haley said.
Haley said he told one of the Carnival operators, "I want you to just turn on the news and see that I'm not lying to you about my son's service, and refund my money." Haley said, "And when I said that, she said, 'Well, if you want to play the dead son angle,' and I just lost it. I called her a bad name and hung up."
Ocala Post Contacted Carnival Cruise Lines on April 14, about Haley's situation.
On April 15, Carnival wrote: "We recently provided Mr. Haley with a full refund. Our most heartfelt thoughts and prayers go out to Mr. Haley and his family during this tragic situation."
Mr. Haley believes it was pressure from the media and a story that aired on Local 6 that made them change their view of the situation.
Ocala Post also asked Carnival about the insensitive response from one of their operators that was directed to Mr Haley. However, Ocala Post is still waiting on that answer.
UPDATE
Due to multiple unprofessional messages from individuals that clearly have an interest in Carnival Cruise Line, Ocala Post took the investigation a step further.
Further investigation revealed that there have been situations similar to Haley's in the past.
According to Consumer Reports and the Better Business Bureau, Carnival has had more than 1,000 complaints filed against it in the last few years. Many of the complaints were filed in 2015. While it is understandable that a company cannot please everyone, the situation with Haley is not the first time the media has had to step in and force Carnival to take action.
Carnival Cruise Line publicly announced on its Facebook page that the insensitive comment allegedly made by a Carnival representative was completely false.
Also, many of the unprofessional and rude comments than have been posted toward those concerned for Officer Forsyth's family were clearly posted by individuals that have some sort of connection to the cruise industry; whether it be an employee, travel agent, or entertainer.
The media has also been accused of fabricating the story. However, all information included in any article was provided by Haley, or Carnival Cruise Line. And some of the earlier statements made by Carnival seemed to change the more the media got involved.
Ocala Post asked carnival about the conversation between Haley and the representative.
In an original statement to Local 6, Carnival stated that they do their best to train its employees on these types of situations.
On April 16, Carnival released the following statement to Ocala Post:
"In call centers, it is not uncommon to record phone interactions and we have a recording of this phone call which has been carefully reviewed. Based on the review of the call recording, the alleged quote by one of our call center employees making reference to 'the dead son angle' or 'dead son card' as we have been told he stated to another media outlets is not accurate," Carnival Cruise Line Vice President of Public Relations Jennifer de la Cruz wrote.
Ocala Post told Cruz that the allegations made by Haley could potentially harm Carnival's business and offered the cruise line a chance to clear its name.
Ocala Post then requested a copy of the recording between Haley and the representative.
Carnival refused to produce the recording. Cruz said the recording was for training purposes only.
Ocala Post also asked Cruz about the travel insurance Haley had purchased for his bookings, as well as the 75 percent penalty Haley was told he would incur if he canceled.
Cruz said, "When Mr. Haley originally contacted Carnival, because there was travel insurance on the reservation, he was given instructions for how to file a claim."
Cruz said that neither the third-party insurance provider nor Carnival mentioned anything about a 75 percent penalty to Haley for canceling his reservation. She went on to say, "I can only assume that he completely misunderstood the information he was being given."
"I would add that we are transparent in terms of our cancellation policies and how the insurance coverage, which is provided by a third party insurance provider, works," Cruz said.
If Carnival is transparent on policies, then why not produce the recording?
Cruz said, "We did make an exception and refund Haley for the cruise and insurance fees."
Ocala Post also contacted James M. Walker of Walker & O'Neill P.A., a well known maritime attorney based in Miami, Florida. Walker has been handling cruise line disputes since 1983.
Ocala Post asked Walker about Haley's situation.
"Carnival's decision to change its mind and refund the cruise fare to the grieving family of Officer Jared Forsyth was damage control by its PR experts," Walker said. "The family had to resort to contacting the media before Carnival would do the right thing. And Carnival is notorious for accessing hefty penalties for the cancellation of a cruise."
Walker asked, "Before the media storm, where was Carnival's 'heartfelt thoughts and prayers' for the family?"
"Carnival has done this before," Walker said. "Submitting a travel insurance claim can easily take three to six months, or more. And there were no guarantees the travel insurance company would pay the claim. Many of the insurance policies do not provide coverage where the policy holder (the surviving family member) is neither ill or dies unexpectedly themselves."
Remember, the insurance policies that are sold to customers by Carnival are through a third-party vendor, which Carnival profits from. It is not uncommon for travel insurance claims to be denied. And in the past, many individuals that have attempted to cancel have been told the same information about hefty cancellation fees.
Walker said, "Cruise lines usually sell the cabin to another guest when a passenger has to cancel a cruise due to a family emergency or tragedy. Making double profit when a police officer, or anyone for that matter, was killed seems to be a repugnant notion. There needs to be legislation prohibiting this practice. A grieving family shouldn't have to appeal to the media for justice."
Ocala Post gave Carnival 24-hours to change their mind on the audio recording, but they remained steadfast.