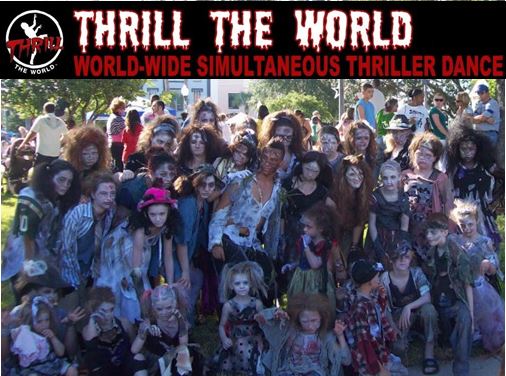 Ocala, Florida — Thrill The World Ocala is back for its fifth year this October.
This is Ocala's Biggest Fall Festival and you won't want to miss it and is being sponsored by Extensions Dance Studio and Just Entertainment, Inc.
Thrill the World Ocala is an annual attempt at the Largest Simultaneous Dance with Michael Jackson's Thriller.
Every year, zombies get together and try to break Ocala's record by dancing to Thriller on the Ocala downtown square. In 2014, they had over 130 zombies dancing, 110 vendors, bounce houses, DJs, Old 'Skool cover band, and many food trucks. There were over 5000 people who attended the event.
Extensions Dance Studio and Just Entertainment, Inc. are currently looking for zombie dancers to help break Ocala's record.  Pre-registration is $5 per dancing zombie and includes two rehearsals at Extensions Dance Studio, located at 2303 Northeast Jacksonville Road, Ocala. The rehearsal dates are Wednesday October 14th and Thursday October 15th at 6:45 p.m. For those who do not pre-register, that's okay too. On the night of the event, participants can register for $7.00 at the sign in table. Each dancer will be required to have an armband. There is no age limit and no dance experience is necessary.  The young and the young at heart are encouraged to attend and have a great time dancing.
In addition to the dancing, there will be other activities, which includes FREE Trick or Treating for the kids at each of the 149 vendors that are participating.  Attendees can visit the vendor booths for candy and take a look at the products and services each vendor will be showcasing.  Additionally, there will be a classic car show, haunted house, foam dance party, bounce house, face painting, bungee runs, a costume contest, and so much more.
Music will be provided by the local rock band Old 'Skool, DJ Larry Spangler and Johnny "DJ Rocket" Sanchez.
Join them on Saturday, October 17th, from 5 p.m. to 10 p.m.
For more information, contact Extensions Dance Studio at 352-694-0601.