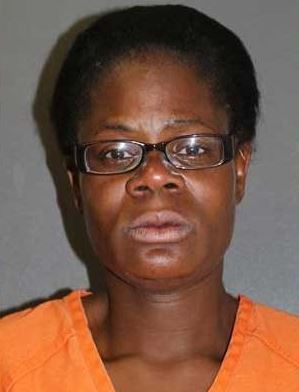 Daytona Beach, Florida — Daytona Beach Police Officer Andre Walker responded to 518 South Martin Luther King Boulevard in reference to a black female sitting on the curb behind the business, holding a baby.
As the officer approached the woman, later identified as, Bobbre Williams, 37, he observed her holding her one-month-old baby.
Williams was smoking crack cocaine and drinking alcohol while holding her infant daughter.
Williams told police she was smoking crack because she was going through some mental problems.
According to police, the one-month-old had not eaten all day while Williams smoked crack.
The officer immediately notified the Department of Children and Families, who responded to the scene.
Officer Walker advised that he was going to take possession of the child, but Williams refused to cooperate. As Officer Walker attempted to remove the infant from Williams, she began to squeeze her baby.
Police said Williams squeezed the infant to the point she could not breathe.
Officers said they had to act quickly and grab Williams' hands while keeping the infant safe.
Williams fought back, striking both officers.
Two officers had to gain control of Williams as she attempted to fight the officers and at the same time keep the infant from being harmed.
Finally, the officers were able to gain possession of the infant. As officers took the infant into custody, she gasped for air and started breathing.
Instead of diapers in her diaper bag, police found crack cocaine.
Williams was arrested and transported to the Volusia County Jail.
According to reports, Williams was already on probation for child abuse. Williams also has an extensive arrest history.
Records indicate Williams was receiving food stamps as well as other government aid. In the past, she has been in trouble for trading food stamps for drugs.
She was charged with Aggravated Child Abuse, Battery on a Law Enforcement Officer, Possession of Crack Cocaine, and Violation of Probation.
Williams had seven other children who were also removed from her custody today.
Officers were not seriously injured during the scuffle.
The infant is expected to be okay.