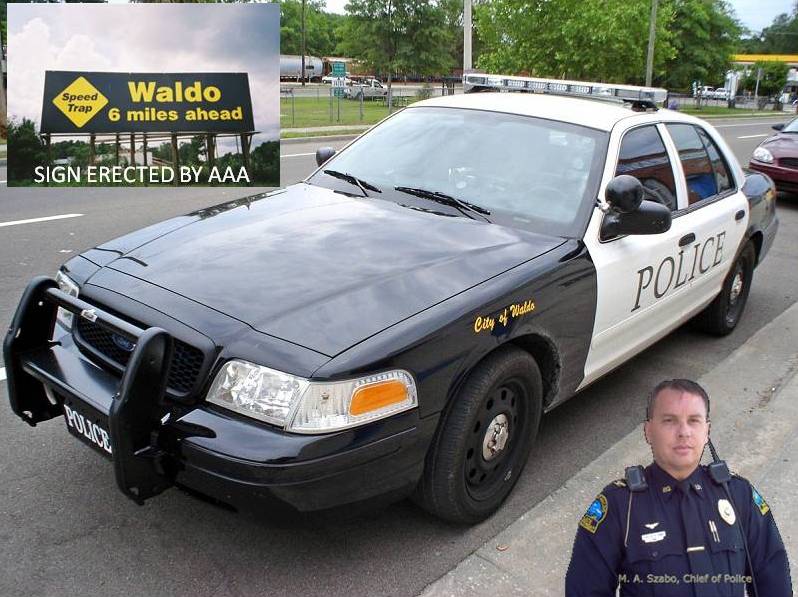 Waldo, Florida — Many have heard the shocking stories about a little Florida town named Waldo — also known as America's Worst Speed Trap.
Over the years, multiple complaints have been filed against the Waldo Police Department in regards to the tactics used by their police force. And with every complaint, city officials turned their heads.
Yesterday, five Waldo Police Officers came forward and told city council that they had been under strict orders to meet a quota for traffic tickets under the command of Waldo Police Chief Mike Szabo and City Manager Kim Worley.
Writing tickets to meet a quota is against the law in Florida.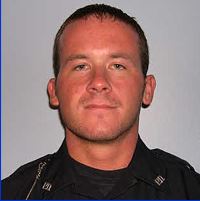 Officer Brandon Roberts told council members that officers were required to write 12 tickets per 12-hour shift, and if they did not, they would face disciplinary action. Roberts also provided e-mails as evidence.
Roberts also said that Chief Szabo kept a cooler in his office filled with drugs that had been seized instead of keeping them properly locked away in evidence. "Anyone could have access to the cooler, even the cleaning crew," Roberts said.
The speed trap set up in Waldo has also been deemed illegal.
Officer Roberts said that officers wrote many tickets, but did so with heavy hearts.
Corruption in Waldo is nothing new. In 2003, former Waldo Police Officer Chris Kirkland wrote a book entitled "Americas Worst Speeding Trap: A Former Officer's View." The book was based on his firsthand experiences as a police officer in Waldo.
In the book , Officer Kirkland described how officers were required to meet quotas, set up speed traps, and use coercion to generate money for the town.
Former Police Chief A.W. Smith was in charge at the time. Smith called the book "a work of extreme imagination."
The American Automobile Association (AAA) has been very open with its criticism toward Waldo city officials and its police department.
According to AAA, Waldo city officials have ignored corruption in their town for nearly two decades.
Former Officer Kirkland, along with AAA, agree that the motivation for corruption in Waldo has always been money.
Waldo police have also been accused of illegally coercing people into police searches of their vehicles, often times pulling motorist from their vehicles and cuffing them while their vehicles were searched.
Many motorist have complained that Waldo police used the "I smell marijuana" tactic to search their vehicle.
Ocklawaha, Florida resident Carla Haskell, e-mailed Ocala Post with the following:
In September of 2013, I was working in Charlotte, NC with my sister and best friend. We would come home on most weekends and then head back to Charlotte for the work week. We were headed back mid morning on a Sunday and drove through Waldo. While passing through, I pulled into the Kangaroo to grab drinks and when we went to exit the vehicle there was a Waldo cop behind me exiting his vehicle with his hand on his gun.

He walked over to my vehicle while yelling at us to stay inside. He then proceeded to reach his hand into my truck and open all my windows using the electric window panel on the door. He then demanded ID from everyone in the vehicle. I thought it was a normal traffic stop.

The officer said I was speeding, but I wasn't going anywhere near as fast as he claimed I was. A second cop showed up and we were asked to exit the vehicle. The first cop asked if he could search my vehicle and I said, "No, I do not consent to any searches." The officer replied, "Yeah, well I just wanted to see what you would say because I am going to search it anyway… I smell marijuana."

He didn't smell anything as no one smokes or had smoked marijuana; he just needed something for probable cause.

We were asked to stand in the rear of my vehicle while he ripped my truck apart. We were asked where we were going, what we did for work, why we commuted to another state, and how much money we made. The second cop even asked where I purchased my sandals from.

The first cop claimed to find a "green leafy substance" on my floor board and then in my purse, at which point I stated he had absolutely found nothing that could have been illegal in my possession. He stated the odor was coming from the rear of the vehicle, yet his focus was on the front of the vehicle, our purses, and glove compartment. He opened the rear where we had luggage, bags etc. He then unzipped one compartment on a duffle bag and shut the hatch.

He walked back around and said if you have illegal drugs you need to tell me now before I find them and take "your ass" to jail. I still stated I had ZERO illegal substances in my possession or in my vehicle and he wasn't going to find anything. He continued the search on the floor boards for an additional 15 minutes. Then he came around the vehicle and told me I had one more chance to confess. Told him I have nothing to confess to, I did nothing wrong. He said he found a substance, but wasn't going to test it because he didn't want to take me to jail. I immediately consented to him testing it. In fact, I told him to test it, at which point he said, "I just told you I am not testing it." He proceeded to write me a $300 speeding ticket and told me to get my truck cleaned. Left the contents of our purses and my truck compartments all over the seats and the floor.

My sister went into the store and bought the drinks we had stopped for, at which time the store clerk said, "Let me guess, he smelled marijuana. He does that all the time as probable cause to do his illegal searches."

We were humiliated in a store parking lot… made to look like criminals in public. And delayed our eight our trip by an hour and a half.

###
The American Automobile Association said, "Small towns always think corruption will be overlooked, but they eventually get caught."
AAA said that more than half of Waldo's $1 million budget comes from revenue produced by traffic tickets.
Chief Szabo did not attend the meeting. He has been suspended with pay.
The investigation is now in the hands of the Florida Department of Law Enforcement.