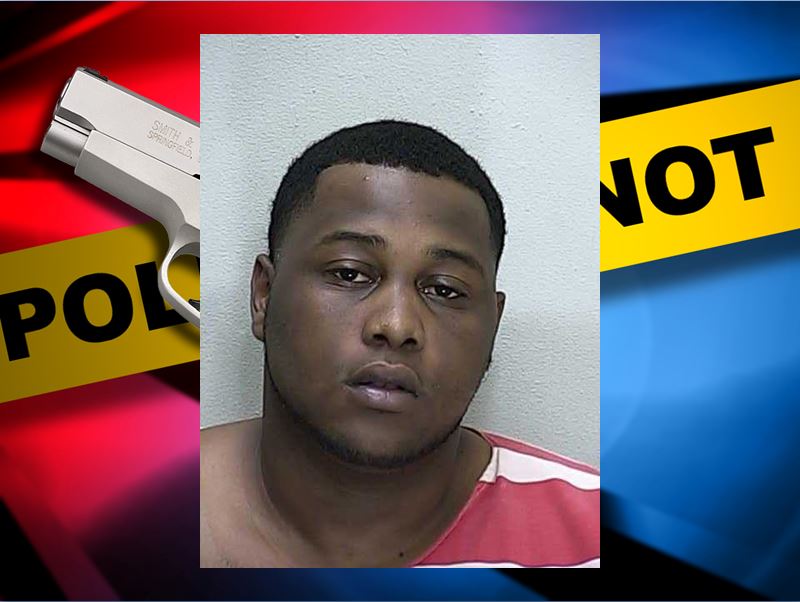 Ocala, Florida — The Marion County Sheriff's Office Bureau of Special Investigations has  made an arrest in the September 13, 2015, Cloud 9 nightclub shooting.
On Monday, MCSO and the US Marshals Florida Regional Fugitive Task Force arrested Laquan Ria'Mel Barrow, 24.
He has been charged with second-degree murder in the death of Benetria Robinson, 19, and attempted second-degree murder for the other five victims who were shot.
Barrow was located at 5465 Southeast 30th Place, Ocala.
"This type of lawless activity will not be tolerated in Marion County and our citizens can rest assured that we will not rest until all the individuals who took part in this heinous act are brought to justice," Sheriff Chris Blair said.
Previous shooting
Ironically, on September 13, 2013, Ocala Post broke a story about a trio of men who were terrorizing residents who live in Silver Springs Shores.
Barrow, was one of those men.
On September 11, 2013, Barrow was arrested for Aggravated Assault with a Deadly Weapon (x5) and Burglary of a Dwelling. He was released on September 12, only to be arrested again on September 13, and charged with Possession of a Firearm During the Commission of a Felony and Possession of Marijuana.
Following Barrow's eighth release from jail, he became wanted for questioning in the shooting death of Samuel Washington.
Washington was shot and killed shortly after he and two others had left Cloud 9 on November 14, 2013.
After leaving the club, the three victims proceeded to a block party, located in the 1900 block of Northwest 1st Street, Ocala.
According to reports, all three victims pulled over just east of 19th Avenue on Southwest 1st Street.
They told police that within minutes, a black male, later identified by victim one as Laquan Barrow, 22, opened his driver's door, punched him in the face several times, and attempted to pull him out of the vehicle. Victim one resisted by holding on to the steering wheel and pushing the suspect away to no avail.
Victim one stated that a second black male, later identified as Howard Lee Hill, 20, also punched him in the face several times and attempted to pull him out of the car. He stated that a third black male, later identified as Tydree Najee Barrow, 20, came to his vehicle with the other two suspects. Victim one said that it was at that moment that he heard a gunshot.
Due to lack of evidence, Barrow was never charged with having any involvement in Washington's death.
September 13, 2015 shooting
On September 13, the Ocala Police Department, assisted by the Marion County Sheriff's Office, responded to Cloud 9, located at 1910 South Pine Avenue, Ocala, following a shooting that occurred at approximately 1:30 a.m.
When Ocala police arrived, they found that six people had been shot. Benetria Robinson, 19, who had been shot in the head, was pronounced dead at the scene. The other five victims were transported to hospitals in two different counties.
Witnesses stated that an altercation that began inside the club made its way to the parking lot. One witness stated that while he was outside, he attempted to break up the fight.
One victim stated to Barrow, "You gotta shoot me, you gotta shoot me?"
According Barrow's arrest affidavit, just moments before he fired multiple rounds from a 9mm handgun, he stated, "Ya'll better move, I've been sparing ya'll. I've got bail money, and I am going to catch me a body tonight."
Witnesses said that was when Barrow reached into his pants, pulled out a handgun, and started firing into the crowd.
Witnesses reported hearing at least 13 shots.
Barrow has previously been arrested for Unlawful Assembly, Aggravated Assault with a Deadly Weapon (x7), Shooting Into an Occupied Vehicle, Armed Burglary of a Dwelling, Grand Theft, Contributing to the Delinquency of a Minor, Resisting Arrest, Violation of Probation (x2), Possession of Marijuana with Intent to Sell, Possession of Marijuana (x3), Possession of Drug Paraphernalia, Possession of a Weapon During the Commission of a Felony, Burglary with Assault and Battery, Flee and Elude, Grand Theft of a Firearm, Possession of Synthetic Marijuana (x2), and Carrying a Concealed Weapon.
Barrow is currently being held without bond. He has refused to cooperate and has demanded an attorney.
Four of the five surviving victims remain hospitalized. One of them is in critical condition.