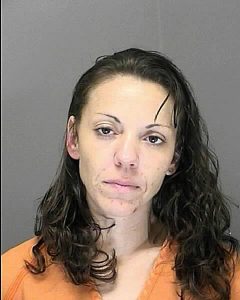 Deltona, Florida — Over the weekend, a tip led Volusia County Sheriff's deputies to a house in Deltona where methamphetamine was being cooked in the presence of a 6-year-old child.
Investigators spent several hours clearing out the highly dangerous chemicals found inside the residence located at 2555 Doyle Road, the home of 31-year-old Carlee Moore and her mother.
According to reports, deputies were dispatched to the house shortly after 10 p.m. on Friday after a tipster reported that Moore was cooking meth inside the home.
When deputies arrived, Moore and her mother denied the accusations and the mother, who owns the home, even said that she wanted to file a complaint against the tipster for harassing them.
The two women then invited deputies into the house when they asked to look around so that they could close out the drug allegation if it wasn't true. But rather than dispelling the complaint, the search turned up a wide assortment of meth-making materials, including bottles of liquid petroleum fuel, coffee filters, a container of salt, drain opener, an electric grinder, a lithium battery and numerous soda bottles coated inside with white residue. Deputies also located a small amount of marijuana and a plastic bottle containing approximately 65 grams of meth oil. Most of the materials were found inside of Moore's bedroom, while some were found on the ground outside of her bedroom window, according to authorities.
After the house was evacuated, investigators with the Clandestine Laboratory Response Team entered the residence to safely remove all of the materials. The child, who was asleep on the living room couch when deputies first arrived, was turned over to the custody of his father.
Moore was arrested on criminal charges that included Trafficking in Methamphetamines, Manufacturing Methamphetamines with a Child Present, Possession of Marijuana under 20 grams and Possession of Drug Paraphernalia.