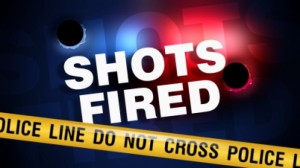 Volusia County, Florida — A robbery suspect is now under arrest in Volusia County after firing shots at Deputy John Vedder of the Volusia County Sheriff's Office.
On January 15, 2014 the Kangaroo Express located at 1701 N. Volusia Avenue, in Orange City was robbed and Dominic Jorgensen-Cloutier,16, was the main suspect in the robbery.
During the investigation it was learned that Cloutier frequented the 800 block of W. Lansdowne Avenue due to his girlfriend living in the area. According to reports, Orange City Police received a tip that Cloutier may be hiding at his girlfriends house, which is in the Sheriff's Department's jurisdiction. It was also relayed to investigators that Cloutier had made the statement, "he would not be taken by cops without a fight."
The Sheriff's Office and Police coordinated with one another and moved on the house around 9 p.m. on Friday, January 18, 2014. When authorities arrived on the scene Cloutier ran and hid behind a shed in the backyard. Deputy John Vedder along with his K-9 partner, Rudo went into the backyard in an attempt to track the teen. Vedder saw a shadow near the shed , at which time he said, "Come out with your hands up."
Instead, Cloutier came out with a revolver in his hands and Vedder immediately released the K-9 as Cloutier fired several shots at Vedder, hitting him in his bulletproof vest.
K-9 Rudo grabbed Cloutier biting him on his hands and wrists, forcing Cloutier to yell out, "I give up."
Vedder, whom did not sustain any injuries, has been with the Volusia County Sheriff's Office for almost 14 years.
Orange City police are charging Cloutier with Armed Robbery and Theft. The Sheriff's Office is charging him with attempted murder of a law enforcement officer.
Please follow and like us: