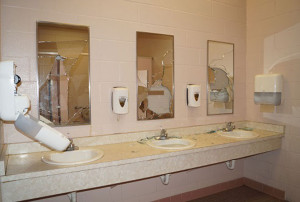 Burglars broke into the Boys and Girls Club of Marion County over the weekend and vandalized the inside, causing thousands of dollars in damage.
Police were called out the facility located on Southwest 12th Avenue on Sunday around 1:00 p.m. on July 13, 2013. The police said, "the vandals broke into the south end of the building but the most damage was done on the north end." The burglars entered the building by breaking windows then once inside they broke mirrors, glass appliances, and glass basketball backboards in the gym.
They poured paint on the floor of one room, broke a kitchen sink, and left the water running in the bathroom with the drains plugged. They turned on the burner to a gas stove leaving pieces of cardboard stuffed inside the burners. The cardboard caught fire, fortunately it did not spread from the stove-top.
The TV screen at the Boys and Girls Club was also smashed in.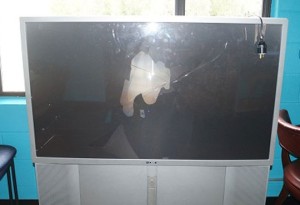 The individuals that caused this damage clearly do not have any respect.
Boys & Girls Clubs of America had its beginnings in 1860 with several women in Hartford, Connecticut Believing that boys who roamed the streets should have a positive alternative, so they organized the first Club.
Character development has been the cornerstone of the Boys & Girls Club experience since the first Club opened in 1860.
The Ocala police are asking anyone with information about the persons who committed this crime to come forward.
Anyone with knowledge about the burglary is asked to call Detective Steve Daunhauer at (352) 368-5405, or Ocala Police's main line at (352) 369-7000
If you would like to donate in helping the Boys and Girls Club rebuild please call (352) 690-7440 or visit there website here.