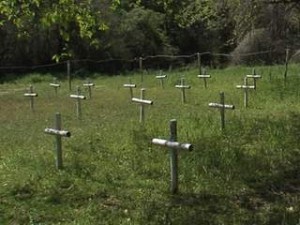 The University of South Florida began the excavation of what could be hundreds of un-marked graves at the site of a former Florida school for boys.
Arthur G. Dozier School for Boys is a former reform school located in the Florida panhandle town of Marianna which shut down in 2011 for alleged budgetary reasons.
The school had gained a heavy reputation over its 111-year history for horrific beatings, rape, torture, and even murder of young inmates by staff.
The digging which began Saturday is expected to come to an end Tuesday and be resumed at a later date according to USF anthropologist, Erin Kimmerle, who is leading the excavation.
The reasoning behind the excavation is to hopefully learn the identities of the buried boys and possibly the manner in which they died.
Kimmerle said, "In these historic cases, it's really about having an accurate record and finding out what happened and knowing the truth about what happened."
Robert Straley, a former inmate of the reform school says they used to segregate the whites from the blacks and the remains are buried where they housed the black inmates. He said he believes there may be a white cemetery that has yet to be discovered.
"I think there are at least 100 more bodies up there. At some point they are going to find more bodies, I'm dead certain of that. There has to be a white graveyard on the white side," said Straley.
The University of North Texas Center for Human Identification will be analyzing DNA collected from the site.
Ten families have provided researchers with their DNA in hopes that a positive match can be made. In the event that matches are made, remains will then be returned to families.
Kimmerle said, "They want to bury them in family plots and next to the boys' mothers and things like that. Anyone whose remains are unidentified will be re-entered here at Boot Hill." The DNA will be recorded and the grave will be marked to any remains that are found but not identified.
Families are hopeful that soon a lot of questions will finally be answered.