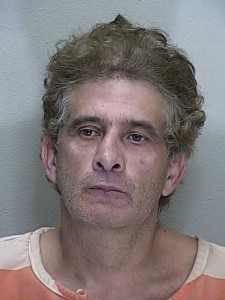 Belleview, Florida – Convicted felon BJ Helvy, 48, of Belleview has been charged with one count of Exploitation of the Elderly and one count of Fraud.
The investigation started January 14, 2014 when a victim who is in the early stages of Alzheimer's disease and dementia hired Helvy to perform tree service around her Ocklawaha home. Helvy reportedly charged the 70-year-old victim $7,740 for the work, when all [he] actually did was trim the trees.
A family member helped the victim contact the Marion County Sheriff's Office.
Investigators learned from two other tree service companies that the charges were on the extreme end of excessive. Estimates put the actual value of the tree service between $1,700-$2,330 tops.
"That shows the suspect as grossly overcharging the victim for tree services," Said investigators.
Helvy has been arrested 10 times since 2002. His previous charges include Battery, Obstruction, DUI, Leaving the Scene of an Accident Involving Injury, he is considered an Habitual Offender for Driving While License Suspend, and his driver's license were permanently revoked prior to his 2002 arrest. Helvy also has previous convictions for Exploitation of an Elderly Person.
Helvy was booked into the Marion County Jail and later released on a $2,000 bond.