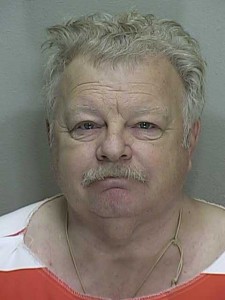 Ocklawaha, Florida — For the second time in less than a month, deputies responded to the 19600 block of 92nd Place in reference to construction material being illegally dumped.
On February 11, 2014 deputies were called out to the area and made contact with Leroy Stevens, 61.
Deputies advised Stevens that they had received a call stating [he] had been dumping construction material after being issued a warning for the same offense on January 14, 2014.
Upon investigation, deputies learned not only had Stevens dumped more, but he didn't remove the previous construction material that had been dumped. When deputies asked Stevens why he didn't take care of the previous materials, he responded, "I did, I covered them up with dirt."
According to reports, Stevens dug a hole in the street (dirt road) and buried old tiles and other construction materials. Stevens said he was renovating a rental property and needed a place to put the construction materials in order to get the house ready and on the market quickly.
Stevens also said," I dumped it there for filler, the ground is soft and people get stuck."
Stevens was arrested and charged with Commercial Dumping of Hazardous Material over 500 Pounds (Felony) and booked into the Marion County Jail. He was released the same day on $2000.00 bond.