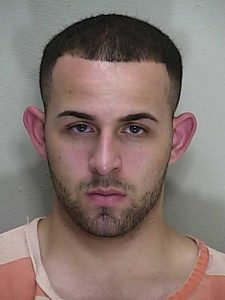 Marion Oaks — The Florida Highway Patrol made an arrest after an April 14 crash left a teenage girl dead.
The accident happened on Marion Oaks Boulevard near Southwest 145th Place Road.
On November 19, following a seven-month long investigation, Ethan Ruiz, 19, was arrested and charged with Vehicular Homicide.
During the initial investigation, evidence suggested that two vehicles, which were allegedly street racing, were traveling south on Marion Oaks Boulevard when Ruiz lost control of his blue Honda, veered off the road, and slammed into a concrete light pole. The impact snapped the pole in half, and nearly split the car into two pieces.
The concrete pole ripped through the passenger side of the vehicle and made contact with the female passenger, Charisma Francisco, 17. She was pronounced deceased at the scene.
Marion County Fire Rescue crews had to extricate both occupants from the vehicle.
Ruiz, was airlifted to Ocala Regional Medical Center. He had been listed as critical, but recovered from his injuries.
FHP Public Affairs Officer Lieutenant Patrick V. Riordan said, "The estimated speed by several witnesses was 75-80 mph; the FHP Investigator calculated the speed at 91 [mph]. And again, according to witness testimonies, there were at least two vehicles engaged in a  speed or acceleration competition,  just prior to the collision."
The second vehicle fled the scene.
Francisco was in her junior year at West Port High School.