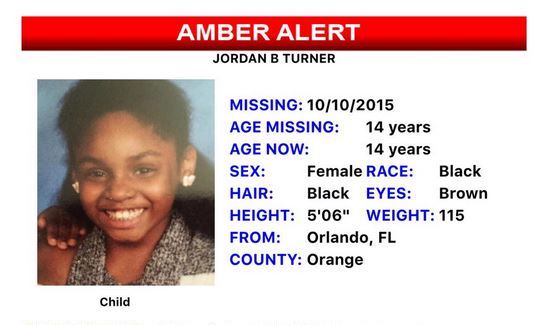 [Last updated on October 10, 2015, at 9:27 p.m.]
Orlando, Florida — OPD had been treating this case as an abduction due to the fact Jordan had sent several text messages to a friend that indicated she had been "grabbed."
She texted that she was with two males she did not know and could not leave.  She also described being in front of what she called a "junkie house," described a car, and two males that had allegedly abducted her.
Jordan then stopped all forms of communication for several hours.
After being located, during a preliminary interview with the teen, she recanted the abduction claims and indicated that she had fabricated the entire story.
At this time, OPD does not have any reason to believe that there are two men out there abducting teen girls.
Jordan was located safe at approximately 8:40 p.m. walking home. She was only a few blocks from her home.
The teen used up the resources of the Florida Department of Law Enforcement, FBI, Criminal Investigation Department, and the Orlando Police Department.
Detectives are continuing to investigate and interview Jordan regarding her whereabouts during the time she was "missing."
There are no additional details available at this time.
Original article
An Amber Alert for a child abduction has been issued for 14-year-old Jordan Turner.
She was last seen near the 600 block of West Jackson Street, Orlando. She was last seen wearing a white T-shirt, blue jeans, and black sandals. Her hair was up in a "bun."
Orlando police said that they believe she is in the company of two light-skinned black or bi-racial men. They might be driving a dark gray or black four door sedan.
According to Orlando police, Jordan sent out a text that stated she was forced into the vehicle.
If anyone has information about Jordan, do not hesitate, call the Orlando Police Department at 321-235-5300, or dial 911 immediately.