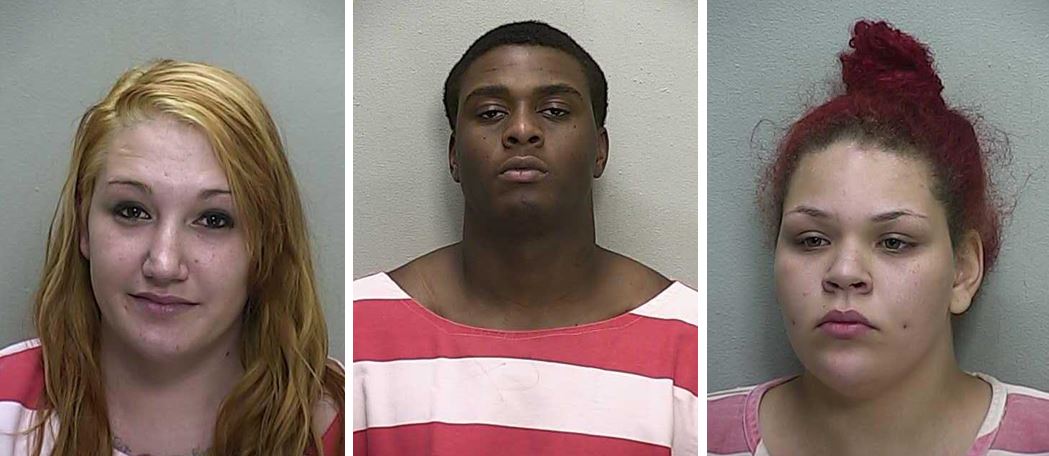 Belleview, Florida — Detectives have arrested three individuals for their involvement in the beating of two men that were lured to a Belleview residence by two women.
One person, who the sheriff's office has not identified, remains at large.
Irvin Savier Chavez Sanchez, 30, and his friend, Baudilio Galicia Diaz, originally told investigators they had met two women at Cowboys Saloon bar on South Pine Avenue, Ocala. However, investigators later learned that the men had previous contact with the women.
According to reports, Lindsay Taylor, 22, and Coralynn Nicole Vandersluis, 18, also known as "Lily" had contact with Sanchez and Diaz via Facebook. The two women had agreed to meet the two men for sex in exchange for $100.00 each.
Sanchez and Diaz were also deceptive about meeting the woman at Cowboys Saloon bar. The two men actually picked up the alleged prostitutes at the McDonald's in Belleview. Video surveillance recovered from the McDonald's confirmed the two men's second story.
Taylor and Vandersluis then had the men drive to a residence in Belleview, where they were "jumped" and robbed by two black males. At least one of the robbers was armed.
Gerard Webster, 20, was identified as one of the men that attacked Sanchez and Diaz.
Prior to Vandersluis' arrest, a conversation between she and Webster had been recorded during a jailhouse phone call. During the conversation Vandersluis told Webster, "They (meaning law enforcement) can't get me on anything except soliciting prostitution."
Taylor, Vandersluis, and Webster were charged with Robbery with a Firearm.
Webster told investigators that the gun used during the robbery was a BB gun. Webster said the gun had been taken apart and disposed of in the trash. Therefore, Webster was also charged with Destroying Evidence. He also violated his probation on a previous charge of Trafficking in Stolen Merchandise. He is being held lieu of a $50,000 bond.
Taylor was in the processes of going through the court in an attempt to regain custody of her children. In November, she was arrested and charged with DUI; she had her 10-month-old baby in the car at the time. She is currently being held on $50,000 bond.
Taylor's three children are currently in the custody of a family member.
Vandersluis violated her probation on a previous charge of Driving on a Suspended License. She is being held in lieu of a $50,000 bond.
If anyone has additional information about this case, please call the Marion County Sheriff's Office at 352-732-9111, Crime Stoppers at 352-368-STOP, text a tip to 274637 using keyword 368-STOP, or visit www.ocalacrimestoppers.com. Anonymity is guaranteed.