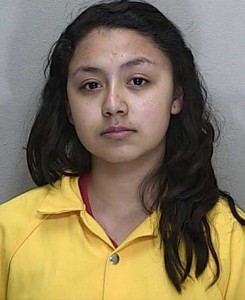 Ocala, Florida — Yaquelin Don, the 13-year-old accused of plotting to murder her parents, is now in an adult jail being kept away from other inmates.
On Friday, March 28, 2014, a grand jury indicted Don on charges of Attempted First Degree Murder and Conspiracy to Commit Murder.
Don is being charged as an adult and could be facing life in prison if convicted.
Don's 15-year-old boyfriend, Pedro Solis, was also previously charged as an adult in this case.
On Sunday, March 9, 2014, During an interview, the victim stated that she was awakened by her daughter, 13-year-old Yaquelin Don. The victim said that Don told her that she heard noises in the garage. The victim said she then got up and went to the sliding glass door and looked out into the dark, at which time she said she didn't see anything.
The victim stated that her daughter insisted that the noises were coming from the garage.
The victim said she went to the garage, turned on the light and attempted to open the door. The victim said that when she tried to open the garage door it would not open all the way, at which time she looked down and could see two sock covered feet under the door. As she went into the garage, 15-year-old Pedro Solis confronted her. The victim said she knew right away who it was because she has caught Solis with her daughter in the past.
Solis then told the victim that she needed to let her daughter (Don) be with him. The victim stated that Solis said, "I can take care of her and provide for her." Solis then told her (the mother) that she should not have hit him with a stick the last time they met.
According to reports, Solis, in one quick motion, then reached up and slit the mother's throat with a knife he was holding in his right hand.
According to the State Attorney, it has been at least 15 years since someone younger than 14 has been charged as an adult in Marion County.
The youngest female to be sentenced to life in Marion County is Amber Wright, she was convicted in 2011 for her role in the murder and dismemberment of Seath Jackson.
Both parents have been ordered by the court to avoid attempting to visit their daughter.