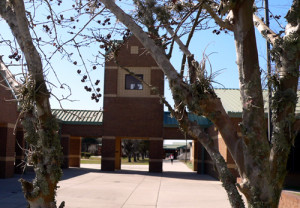 Belleview, Florida — On October 29, 2013, at approximately 9 a.m., a Belleview Middle School student was hit by a car as she rode her bicycle to school.
The accident happened on a street where residence say speed is a problem on a daily basis. According to residence, motorists travel the area at high rates of speed without concern for students making their way too or from school.
According to FHP, Keelin Hailey Morris, 11, was traveling north on Southeast 36th Avenue on the northbound shoulder near the white line on the road.
As a 16-year-old student approached Morris and tried to go around her, FHP said for reasons unknown Morris may have lost control of her bicycle crossing into the path of the 2000 Mitsubishi Eclipse driven by the 16-year-old. He was also on his way to school.
The rear of Morris's bike was struck by the right front of the car. She was thrown from her bike on impact, Morris was wearing a helmet at the time of the accident.
Morris was taken to Shands Hospital via helicopter, and is listed in critical, but stable condition.
Charges have not been filed against the 16-year-old driver.
According to FHP the investigation is still open.
Messages to Keelin Morris can be left in the comment section below.