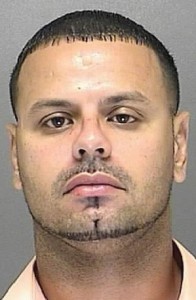 Daytona Beach, Florida — Volusia County Sheriff's investigators filed a murder charge Monday night October 28, 2013 against Luis Toledo, the man at the center of the disappearance of his wife and her two children. Investigators charged Toledo with 2nd-degree murder in the death of his wife, 28-year-old Yessenia Suarez. No charges have been filed yet related to Suarez' two children, 8-year-old Michael Otto and 9-year-old Thalia Otto. Suarez and the children went missing last week from their Deltona home and are presumed dead. A search for their bodies is ongoing.
Suarez apparently had been talking about leaving Toledo, and her family has told investigators with the Sheriff's Office Major Case Unit of violent squabbles between the two that were never reported to law enforcement. The conflict apparently came to a head Tuesday afternoon, when Suarez showed up at his wife's workplace in Lake Mary to confront her and a co-worker who she had been seeing. Toledo ended up fleeing the scene after slapping Suarez in the face. The next morning, deputies were at the Deltona house checking on Suarez and her children after Suarez' mother had called to report that she couldn't get a hold of her and was concerned that Toledo may have harmed her. While deputies were at the house, Toledo drove up in a silver Saturn. He claimed that after he and his wife argued at the house the night before, he drove off in the Saturn at about 10 p.m., then returned to the house an hour later and slept in his car. Toledo said that when he woke up at about 8 a.m. the next morning, his wife and her children were gone. He said he left for work a short while later, but then turned around while on his way and came back home because he had forgotten his wallet. That's when he encountered the deputies at his house.
After Suarez was arrested on Lake Mary's battery charge, deputies continued their investigation into the whereabouts of Suarez and their children. That's when a neighbor revealed that Toledo had knocked on the neighbor's window at about 6 a.m. on Wednesday and asked for his help dropping off his wife's car. The neighbor agreed and followed Toledo to Lake Mary, driving the silver Saturn while following behind Toledo in his wife's black Honda. Then the neighbor and Toledo drove back to Deltona in the Saturn. Subsequent searches of the couple's house confirmed the presence of blood.
Toledo, who said he's trained in martial arts and knows how to deliver strikes, initially denied having any involvement in the disappearance of his wife and her children. But during a subsequent interview with investigators, he admitted that while arguing with Suarez last Tuesday night, she became aggressive and so he struck her in the throat with an open hand and she subsequently died from the blow. He has so far refused to disclose the whereabouts of her body. Based on the Sheriff's Office's investigative findings, Volusia County Court Judge Bryan Feigenbaum issued an arrest warrant Monday night charging Toledo with 2nd-degree murder. Sheriff's investigators met with Suarez' family Monday evening to inform them of the impending arrest. Toledo is being held without bond at the Volusia County Branch Jail in Daytona Beach. Toledo has denied killing the children and has implicated someone else in their deaths. The Sheriff's Office is continuing its investigation.
The search for the victims is ongoing.