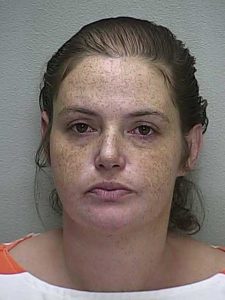 Marion Oaks, Florida — On December 2, 2013 at approximately 9:30 a.m. Deputy Larry Mcardle responded to 3219 SW 128 street road (Marion Oaks) in response to an unattended 4-year-old child that was in the middle of the street.
Upon arrival, the reportee, stated that she had found the 4-year-old in the street looking for his mother.
According to the witness, the child pointed to his residence and stated, "that a Bee."
The witness told deputy Mcardle she could hear crying coming from the home. The witness entered the residence through the front door that was wide open; once she was inside she found a 2-year-old in a crib that was in the living room.
According to reports, the witness looked for the mother, identified as Zolia Jean Zdrodowski, 37, for 30 to 45 minutes before she actually called 911.
Deputy Mcardle entered the dirty cluttered residence and noted that the child was still confined to the crib, according to reports.
As deputy Mcardle was clearing the residence, Zdrodowski returned home.
According to Zdrodowski , the children were sleeping when she left to make a phone call from her sister in law, Lelisha a. Burns' residence. Zdrodowski claims that she was at Mrs. Burns' residence for approximately 15 minutes plus walking time.
Further investigation revealed that Zdrodowski has been arrested for DUI, Battery, and Posession of Heroin.
DCF investigator Lorena M. Mccollister took possession of the children.
Zdrodowski was arrested and transported to the Marion County Jail where she was charged with Felony Child Neglect.