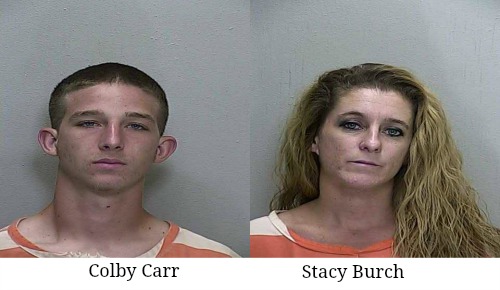 Silver Springs Shores — Emerald Shores Elementary School was put on lockdown today Just before 11 a.m., after a 911 call came in about shots fired in the area of 1 Oak Circle Lane, Ocala.
The school was put on lockdown immediately as a precaution as the school is located less than a half-mile from where the shots were heard.
Deputies were able to pinpoint the direction in which the shots were coming from. Deputies located Colby Wayne Carr, 19, of Belleview and Stacy Jo Burch, 42, of Ocala.
Carr admitted to deputies that he was outside with Burch shooting a 12-gauge shotgun and a 30-30 Rifle.
During the investigation deputies learned that Carr is on felony probation for Felony Possession of a Controlled Substance, Carr's probation just began on November 06, 2013.
The investigation also revealed that Burch is on felony probation for Distribution of Narcotics and Use of a Two Way Communication Device to Facilitate a Felony. Burch had previously violated her probation after committing theft and has an outstanding warrant out of Sumter County.
Felons are prohibited from possessing or handling firearms.
Both were arrested and transported to the Marion County Jail.
By 11:50 a.m., the lockdown was lifted. No one was injured nor threatened.
According to authorities, the school followed all school policies during the lockdown.