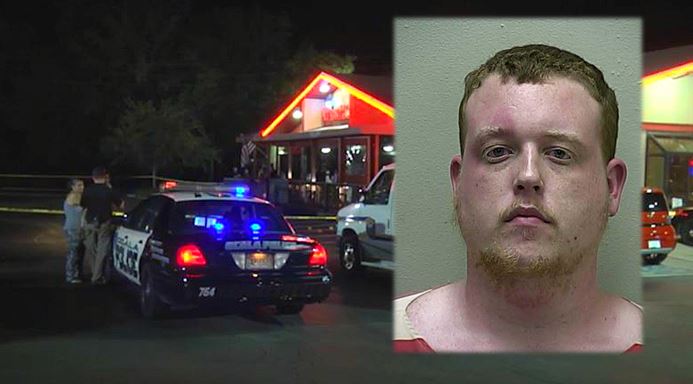 Robert Bavle, 23, was arrested and charged with 2nd Degree Murder Sunday after he shot and killed another man.
The shooting occurred at the Ocala WingHouse, located 2145 E. Silver Springs Boulevard, at approximately 9:52 p.m.
A witness, Matthew Boyd, told Ocala police that Bavle left the restaurant, and as he was walking through the parking lot was attacked by a black male, later identified as Jonathan Sullivan, 27.
According to reports, when Sullivan punched Bavle in the face, Bavle turned, pulled out a .40 caliber handgun, and began shooting at Sullivan.
Sullivan ran, but Bavle chased him and kept firing. Witnesses stated that even after Sullivan had fallen to the ground, Bavle stood over him and kept firing.
Ocala Police Department Capt. Steven Cuppy said that they found 13 spent .40 caliber shell casing in the parking lot where they found Sullivan.
Sullivan had been shot in the chest, neck, and back.
An unidentified patron, who Boyd referred to as "a biker guy", exited the restaurant, pulled out a gun and helped Boyd hold Bavle on the ground until police arrived.
OPD Detective Matt Steckman reported that Bavle had initially acted in self defense. However, Bavle continued to chase Sullivan while shooting at him. Additionally, Bavle stood over Sullivan and continued to shoot him after he was already on the ground.
Detective Steckman stated that Bavle fired his weapon until he ran out of ammunition, and then attempted to flee the scene. Therefore, Bavle was charged with 2nd Degree Murder.
Police did not say if Bavle had a concealed carry permit for his weapon.
According to detectives, Bavle and Sullivan knew each other. They are also listed as Facebook friends.
Bavle has previous arrests for Battery and Possession of Marijuana with the Intent to Sell.
He is currently being held at the Marion County Jail on a $50,000 bond.
Sullivan died on his way to Ocala Regional Medical Center.
The investigation is ongoing.
Anyone with information related to this incident can call Detective Matt Steckman at 352-369-7147, the Ocala Police Department at 352-369-7000, Crime Stoppers at 368-STOP,  or text 274637 using keyword 368-STOP.  Tipsters can also visit www.ocalacrimestoppers.com. Anonymity is guaranteed