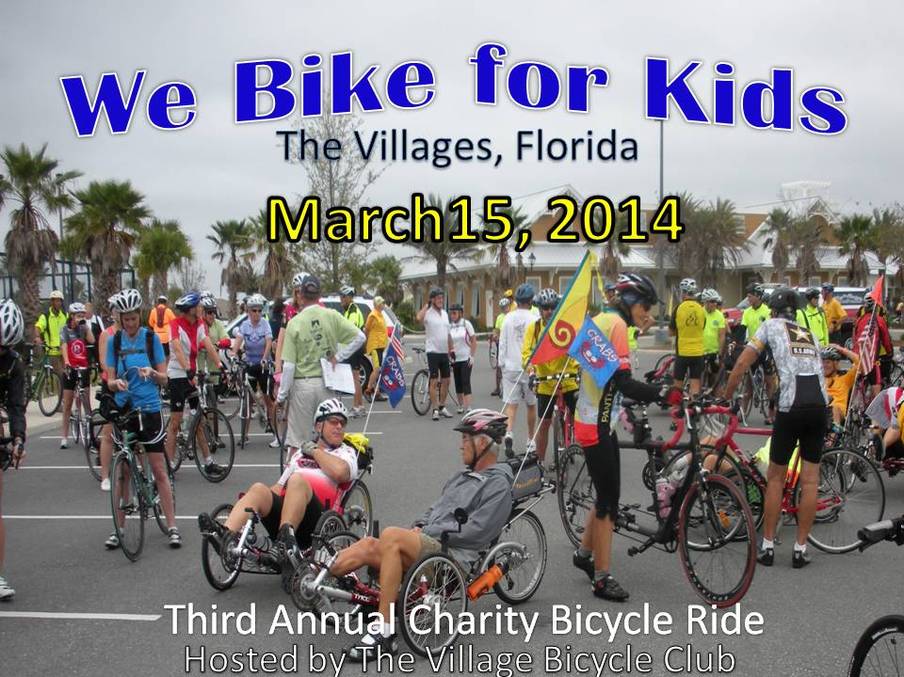 The Villages — The third annual "We Bike For Kids" charity bicycle ride will be held on March 15, 2014 starting at the SeaBreeze Recreation Center in The Villages.
The event features a Metric Century (62 miles) beginning at 8:30 a.m., a 30-mile ride starting at 9:30 a.m., and a 10-mile ride starting at 10 a.m. Maps will be provided to participants, and traffic control assistance is provided by the Sumter County Sheriff's Office.
Breakfast and lunch will be catered by "redsauce American-Italian Restaurant." Riders will also receive a complimentary ticket for a raffle prize and free massage. A DJ will start the rides and a band will perform at lunch.
The ride benefits Project Legacy and the Sumter County Youth Center in their efforts to help the children in the tri-county area. Last year, We Bike For Kids raised $12,000 for the two charities.
For more information, visit: webikeforkids.com.
Registration is now open on Active.com via the link below.