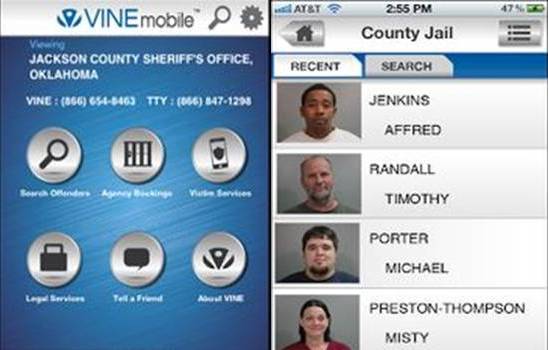 Tallahassee, Florida — Florida Department of Corrections Secretary Michael Crews announced today a new Victim Information and Notification Everyday (VINE) mobile app which provides information and notification of an offender's status to victims of crimes committed by inmates in the Department's custody or under its supervision.
"Ensuring that Florida families are safe is the Department of Corrections' priority," said Secretary Crews. "The information accessible through VINE allows victims to stay informed 24 hours a day, seven days a week, 365 days a year and helps prevent re-victimization."
The new VINEmobile app, which is available in the Google Play Store and iTunes, is an additional tool in the VINE service system and is available in English, Spanish and Haitian Creole. Those who don't have a mobile device or who prefer to speak to an operator can call a toll-free number at 1-877-VINE-4-FL (1-877-846-3435).
Through VINE, victims can register to receive an automated notification when an inmate is released, transferred, escapes, is placed in a work release facility, transfers to another jurisdiction, returns to the Department's custody, or dies while in custody. The VINE Service is anonymous and confidential.
VINE is part of the Department's commitment to public safety and is facilitated through the Victim Services office whose primary function is to assist victims of crimes committed by inmates in the Department's custody or under our supervision, and to notify victims prior to an inmate's release. Victim Services also provides referral services to victims with specific needs, such as counseling, support groups, crimes compensation, and crisis intervention.
Currently there are 216,770 VINE registrants statewide, with an average of 18,992 new registrants per month in 2013. In 2013 VINE made 4,510,016 phone calls and sent 273,562 emails to victims for status changes involving offenders. With the implementation of the VINEmobile app, the Department hopes to increase awareness and registrations for victims of crimes committed by offenders on community supervision and inmates in all 67 county jails and the Department of Corrections.